18 August 2014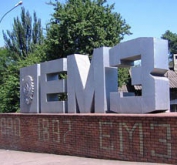 The city of Yenakiieve's electricity transmission lines were damaged by heavy artillery this morning. This resulted in a power outage at Metinvest Group's Yenakiieve Steel, stopping the production process completely.
There is currently no electricity and water in the entire city. Damage to the incoming high voltage lines led to the suspension of work at all of Yenakiieve Steel's shops. Repair and restoration of main electricity supplies is impossible due to the ongoing armed conflict. Representatives of Metinvest Group do everything possible to create a "green corridor" for repair teams.
Yenakiieve Steel's core production shops were hit by artillery on August 13, 2014. A decision was made to suspend operations on the following day. At that time, two of the plant's blast furnaces were in operation – #1 and #3. Blast Furnace #5 was stopped on July 28, 2014 at a lower charge, while necessary actions were taken to assure the preservation of equipment for a long period (up to a month).
In addition, on Saturday, August 16, armed representatives of the Donetsk People's Republic broke into the territory of Yenakiieve Steel, threatened workers with machine guns, and stole a diesel locomotive. The locomotive was driven away from Yenakiieve Steel's territory; its current whereabouts are unknown.
The enterprise opened access to the bomb shelters on its territory so plant workers and their family members can wait out the ongoing military activity. A humanitarian crisis center, established by Rinat Akhmetov's Fund in order to join the efforts of the fund and all of the businesses of SCM Group, is working at the plant and in the city. The task of the crisis center is to render assistance to people in need in areas where there is ongoing military activity.
Due to the military activity, four of Metinvest Group's plants have been shutdown in Yenakiieve, Avdiivka and Khartsyzsk. The shutdown of these large metallurgical enterprises and the major employers in these cities affects the entire Ukrainian economy and 15,000 employees and their families. In addition to the social and economic consequences, the residents of Southeastern Ukraine are now at risk of manmade disasters.
For editors:

Yenakiieve Iron & Steel Works is one of the world's leaders in square billet production. It produces cast billet, rod, and various sections (beams, channels, angles, etc.).

Metinvest Group is a vertically integrated group of steel and mining companies that manages every link of the value chain, from mining and processing iron ore and coal to making and selling semi-finished and finished steel products. It has steel and mining production facilities in Ukraine, Europe and the US, as well as a sales network covering all key global markets. Its strategic vision to become the leading vertically integrated steel producer in Europe, delivering sustainable growth and profitability resilient to business cycles and providing investors with returns above industry benchmarks. The Group reported revenue of USD 3.1 billion and an EBITDA margin of 15% in the first quarter of 2013. The major shareholders of Metinvest B.V. (the holding company for Metinvest Group) are SCM Group (71.25%) and Smart-Holding (23.75%), which partner in the Group's management. Metinvest Holding, LLC is the management company of Metinvest Group.