13 May 2014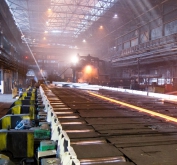 Metinvest Group's Yenakiieve Iron and Steel Works carried out a major overhaul of its 160 ton Basic Oxygen Furnace with a partial reconstruction of gas offtake. The overhaul improves efficiency and reliability, while reducing environmental impact.
A new basic oxygen furnace body, support ring were manufactured and installed.
The existing gas offtake exhaust fan was replaced with a high capacity one tailor-made for Yenakiieve Steel overseas. The new equipment ensures compliance with Ukrainian environmental legislation. A state-of-the-art lubrication station was also installed that is equipped with sensors that control and ensure the reliable operation of bearings.
Almost all equipment, both mechanical and electrical, that was adjacent to the basic oxygen furnace were overhauled, including the platforms and sidewalls in the vicinity of the steel and slag tapping area as well as all utility lines that ensure the operation of the basic oxygen furnace.
The cost of the overhaul is estimated at UAH 32,446,000. Yenakiieve Steel completed the work ahead of schedule: instead of the planned 45 days, it took 38 days. In the time saved on the overhaul, the plant produced additional 10,000 tons of steel.
The overhaul of Basic Oxygen Furnace #2 is part of a phased environmental program to bring operations at the basic oxygen furnace shop up to European environmental standards. A similar major overhaul was carried out at Basic Oxygen Furnace #3 in late 2012. During that overhaul, a modern VOKG-160 LD gas cooling stack with control automation, alarms and an interlock system was installed. That project reduced atmospheric emissions by nearly twofold.
"We plan to conduct a major overhaul of Basic Oxygen Furnace #1 in 2014. All three basic oxygen furnaces will then have been overhauled and operations will fully meet future environmental legislation," said Aleksandr Podkorytov, Yenakiieve Steel's general director.
The basic oxygen furnace shop supports Yenakiieve Steel's status as the only enterprise in Ukraine that makes and casts 100% of steel on light section continuous casting machines.
For editors:

Yenakiieve Iron & Steel Works is one of the world's leaders in square billet production. It produces cast billet, rod, and various sections (beams, channels, angles, etc.).

METINVEST GROUP is a vertically integrated group of steel and mining companies that manages every link of the value chain, from mining and processing iron ore and coal to making and selling semi-finished and finished steel products. It comprises steel and mining production facilities located in Ukraine, Europe and the US, as well as a sales network covering all key global markets. The Group is structured into two operating divisions, Metallurgical and Mining, and its strategic vision is to become a leading vertically integrated steel producer in Europe, delivering sustainable growth and profitability resilient to business cycles and providing investors with returns above the industry benchmarks. For the 12 months ended 31 December 2013, the Group reported revenues of US$12.8 billion and an EBITDA margin of 18%.

The major shareholders of METINVEST B.V. (the holding company of Metinvest Group) are SCM Group (71.25%) and SMART Group (23.75%), which partner in its management.

METINVEST HOLDING LLC is the management company of Metinvest Group.