16 April 2014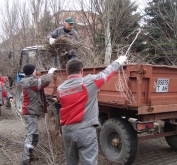 Employees of Enakiieve Steel's (EMZ) branch in Makiivka supported the in-company volunteer clean-up event and cleaned the Metallurgov park.
About 130 employees from 15 departments cleaned up the city park with total area of over 10 hectares. The park has not been taken care of during eight years due to other priorities. During the clean-up event the plant's workers collected garbage, cut the dry wood, cleaned the lawns and swept the pavements on the one-hectare space. The volunteers removed 85 cubic meters of garbage and huge amount of dry tree branches.
Sergey Sofiev, Chairman of Kirovskaya district administration:
- There were many architectural forms in this park before, and it was maintained by about 30 people. Now it is not served to the whole extent due to difficult economic situation in the country. That is why we have often involved non-government organizations, schools and plant's workers to clean these territories. Of course, there is still much work to do, but Well Begun is Half Done. I am grateful to the steelworkers for their participation in the clean-up events, including those conducted during the working days. They provide the machinery and themselves take part in cleaning.
Aleksandr Chudnovets, Director of EMZ' branch in Makiivka:
- We have planned to clean up this territory for a long time. We fulfilled this plan partially and we will do it in future to the best of our abilities and whenever possible.
For editors:

Yenakiieve Iron & Steel Works is one of the world's leaders in square billet production. It produces cast billet, rod, and various sections (beams, channels, angles, etc.).

Metinvest Group is a vertically integrated group of steel and mining companies that manages every link of the value chain, from mining and processing iron ore and coal to making and selling semi-finished and finished steel products. It has steel and mining production facilities in Ukraine, Europe and the US, as well as a sales network covering all key global markets. Its strategic vision to become the leading vertically integrated steel producer in Europe, delivering sustainable growth and profitability resilient to business cycles and providing investors with returns above industry benchmarks. The Group reported revenue of USD 3.1 billion and an EBITDA margin of 15% in the first quarter of 2013. The major shareholders of Metinvest B.V. (the holding company for Metinvest Group) are SCM Group (71.25%) and Smart-Holding (23.75%), which partner in the Group's management. Metinvest Holding, LLC is the management company of Metinvest Group.