8 April 2014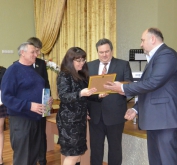 This year an expert panel selected a record number of winners of Metinvest Group's "We Improve the City" competition: 14 initiative groups were awarded grants to implement their projects in Yenakiieve.
For this year's competition, the total grant fund was doubled to UAH 700,000, which allowed for financing a larger number of projects. Of 42 applications, the expert panel selected the best 14 of various scales and focus.
Winning projects dealt with landscaping, municipal infrastructure and education/culture. The projects received UAH 19,000-100,000 from Metinvest Group's Yenakiieve Iron and Steel Works.
A real children's island will be setup on the territory of the Metallurg-1 horticultural association, and workout sites will be provided in the Vatutina settlement and Yunokommunarovsk town. Plants for landscaping central streets will be grown by the municipal services, which will have a positive effect on the local budget. Gardeners will clean the water zone near Monakhovo settlement, restoring water to dachas to grow vegetables and fruits.
"Frankly speaking I did not even believe that we would win. The idea came to us last year, but we had doubts and were afraid. And this year we made the decision and realized that many of the plans really do get implemented," said Vyacheslav Sergeyev, chairman of the Metallurg-3 horticultural association. "For pensioners, their land plots are a real corner of their souls: they work there, they rest there. Our association was established 25 years ago and it has become a second home for many people. For example, I also cannot imagine what I would do if I had to leave it. Everything here is near and dear. Now we will deepen and clean the pond and landscape it. As a result, I hope we will keep working to everyone's delight for many years."
The concert hall at the P.I. Tchaikovsky School of Art will be refurbished and the central children's library will be provided with multimedia facilities, furniture and board games. The gym will be refurbished at the Yenakiieve Technical Metallurgical School (ЕPTMU) and new dual-pane windows will be installed in Educational Institutions #20 and #21.
"Despite the current situation in the country, there are still kind and fair people everywhere. I applied to many institutions, but no funding was provided to our gym and we had to repair everything on our own," says Natalia Tkachenko, director of EPTMU. "Thank God there is such a competition. Thanks to Metinvest, we will be able to meet all of our needs for sports. In this case, "we" are all of the villagers of the Krasny Gorodok settlement who need a gym and various activities. We will certainly implement the project, and we will engage in sports and move on!"
A wheelchair ramp will be provided to the 40 Years of Victory Community Center, a library for visually-challenged people will be established at the Ukrainian Association of Visually Challenged People and a table tennis section will be opened in the Metallurg club gym.
"The Community Center has been working since 1977 and its ramp does not meet current codes and standards. Every year more than 100 events are hosted here. It is the central cultural centre that can host tours and concerts of visiting shows and entertainers. But, unfortunately, all people with disabilities cannot go attend. When they manage to attend a concert, you should see their eyes - it's worth it!" said Vladimir Khvostov, an initiator of the "Culture Without Barriers" project.
Co-chairpeople of the expert panel, Alexander Podkorytov, general director of EMZ, and Valery Oleynik, mayor of the city of Yenakiieve, gave commemorative diplomas and cash certificates to the participants.
"There were many applications for this year's competition and it was difficult to choose the most worthy projects. We are pleased to see that the interest of citizens is growing. This means that people believe in their own capabilities and in the possibility of changing the city for the better," said Podkorytov. "We doubled the size of the grant fund, but this was still insufficient to fund all of the projects. It is remarkable that city officials did not remain uninvolved. Through the active participation of Yenakiieve Mayor Valery Oleynik, some projects will be implemented with the support of the City Council. "Do not be afraid of talking about your problems - together we can always find a solution!"
Like last year, some projects will be partially funded from other sources. For example, the initiative for the social adaptation of children and adults through art therapy and the creation of the women's health club for the rehabilitation of women diagnosed with breast cancer will be supported by the City Council. A training center for first aid initiated by the Red Cross is planned to be created at Yenakiieve Steel. And "Metinvest Green Centre" Public Union will help initiative groups build a playground in the #73 block and remove debris from an area in Krasny Gorodok settlement.
"This year Yenakiieve residents once again surprised us with their initiatives, and pleased us with the representation of their projects and their desire to make the city more beautiful and children's lives better," said Oleynik. "We will provide additional funding for projects to improve the participation of residents in the creation of a comfortable environment for socially unprotected citizens."
The organizers plan to sign contracts with the winners before April 15. The most important stage of the competition, the implementation of the projects, will start immediately after the receipt of funding.
For editors:

Yenakiieve Iron & Steel Works is one of the world's leaders in square billet production. It produces cast billet, rod, and various sections (beams, channels, angles, etc.).

Metinvest Group is a vertically integrated group of steel and mining companies that manages every link of the value chain, from mining and processing iron ore and coal to making and selling semi-finished and finished steel products. It has steel and mining production facilities in Ukraine, Europe and the US, as well as a sales network covering all key global markets. Its strategic vision to become the leading vertically integrated steel producer in Europe, delivering sustainable growth and profitability resilient to business cycles and providing investors with returns above industry benchmarks. The Group reported revenue of USD 3.1 billion and an EBITDA margin of 15% in the first quarter of 2013. The major shareholders of Metinvest B.V. (the holding company for Metinvest Group) are SCM Group (71.25%) and Smart-Holding (23.75%), which partner in the Group's management. Metinvest Holding, LLC is the management company of Metinvest Group.