12 February 2014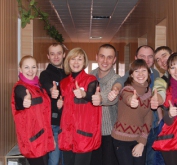 Metinvest Group's Yenakiieve Iron and Steel Works, in cooperation with the Red Cross, modernized and provided equipment for new rooms in the local Social Security Centre for lonely elderly people. Now the rooms are equipped with multifunctional specialized orthopedic beds, which significantly improve medical treatment and living conditions in the centre.
Yenakiieve's Social Security Centre has been rescuing lonely seniors and handicapped people for a long time. Twenty-seven people permanently reside there, awaiting further registration in specialized establishments. That is why this organization was the first to get help through the project "Yenakiieve, Territory of Kindness." With the financial support of Yenakiieve Steel and cooperation from the Yenakiieve Red Cross, they purchased multifunctional specialized beds for bedridden patients. Representatives of Yenakiieve Steel's youth organization helped to install them.
"The opening of two additional rooms in our centre allows us to host more people here. These people are not ill; they are lonely seniors who need care and attention. Many of them have difficulties walking. That is why the new orthopedic beds will be extremely helpful for our staff," says Olga Averkina, head of the Red Cross. "It is very important that these lonely elderly people have a chance to live their twilight years peacefully. We would like to thank Yenakiieve Steel for their contribution; our budget would have never been enough for such things. We also thank the youth organization for their active participation: They helped with repairs, cleaned the rooms from construction waste, and installed the beds. Their work was especially pleasant since volunteering in our town is just developing."
Note that Yenakiieve Steel is the only Yenakiieve enterprise that has been investing in the social sphere for a long time and plans to do it in the future. Long-standing cooperation between the plant and the local organization of the Red Cross in Ukraine results in an annual contribution to the fund of 50% of the city's sum of donations. The workforce of Yenakiieve Steel, represented by General Director Aleksandr Podkorytov, was recognized with a certificate from the National Committee of the Red Cross of Ukraine for cooperation with the local organization of the Red Cross. In November 2013, Dmitriy Konovalov, a worker on the gas rescue team, was recognized as volunteer of the year. Yenakiieve Steel was the first industrial enterprise in Donetsk region to receive a prestigious award from the international organization.
For editors:

Yenakiieve Iron & Steel Works is one of the world's leaders in square billet production. It produces cast billet, rod, and various sections (beams, channels, angles, etc.).

Metinvest Group is a vertically integrated group of steel and mining companies that manages every link of the value chain, from mining and processing iron ore and coal to making and selling semi-finished and finished steel products. It has steel and mining production facilities in Ukraine, Europe and the US, as well as a sales network covering all key global markets. Its strategic vision to become the leading vertically integrated steel producer in Europe, delivering sustainable growth and profitability resilient to business cycles and providing investors with returns above industry benchmarks. The Group reported revenue of USD 3.1 billion and an EBITDA margin of 15% in the first quarter of 2013. The major shareholders of Metinvest B.V. (the holding company for Metinvest Group) are SCM Group (71.25%) and Smart-Holding (23.75%), which partner in the Group's management. Metinvest Holding, LLC is the management company of Metinvest Group.