5 December 2013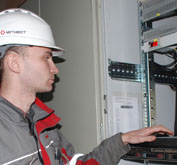 Metinvest Group's Yenakiieve Steel is continuing to modernize weighing equipment. Electronic strain-gauge scales were installed in the BOF Shop of Yenakiieve Steel to increase the accuracy of iron weighing before charging it into BOF to improve steel quality.
The program to modernize the weighing equipment at Yenakiieve Steel was started five years ago. Since then, several weighing facilities have been upgraded at various process stages, which have enabled a reduction in the time to load railcars, a decrease in the time motor vehicles spend at checkpoints and the elimination of the overloading of railcars, which has reduced the volume of rejects during loading.
Investments into the modernization of weighing equipment have amounted to USD 970,000. In early 2013, the large project "Replacement of the Weighbridge at CCM #1" was implemented, involving investments of USD 160,000. Currently, the enterprise is implementing the project 'Upgrade the Weighing Equipment at the BOF Shop Mixers," involving investments of USD 325,600. Electronic strain-gauge scales have already been installed at Mixer #1. Their accuracy is five time higher than those of the outdated balance scales. With the commissioning of the new equipment, the BOF operators obtained a reliable tool for controlling iron and blending materials before charging into the BOF for further steel-making.
Similar modern strain-gauge scales will also be installed at Mixer #2 in the BOF Shop. It is also planned to upgrade the weighing equipment at Yenakiieve Steel's Rolling Shops - at the 550 mill in Yenakiieve and at the Rail Fastening Shop in Makiivka. Moreover, new weighing equipment will be installed on the conveyors and bins in the Lime Shop.
The modernization of the weighing equipment will have a positive effect on Yenakiieve Steel's entire production process.
"Improving production efficiency is a key task of each structural unit of the plant," said Aleksandr Podkorytov, general director of Yenakiieve Steel. "One of the solutions for this task is to upgrade the weighing equipment, which enables accurate registration and control to reduce costs and improve quality of products."
For editors:

Yenakiieve Steel is one of the world leaders in square billets production. The Group is comprised of PJSC "Yenakiieve Iron and Steel Works" and Ukrainian-Swiss Joint Venture "Metalen" LLC, which both carry out economic activity at common production facilities and have united production cycle. The company produces cast billet, rebar and various rolled sections (beams, channels, angles, etc.) as well. Yenakiieve Steel is a part of Metinvest Group's Metallurgical Division.

Metinvest is vertically integrated group of mining and steel making companies managing assets in each step of production chain starting from iron ore materials and coke mining ending with semi-finished products and finished steel products, pipes and coils as well as other value-added products. The Group consists of mining and steel making facilities located in Ukraine, Europe and USA and has sales network covering all key world markets. Major Metinvest's shareholders are SCM Group (75%) and Smart-Holding (25%) managing the Company jointly.