27 November 2013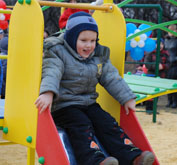 Metinvest Group's Yenakiieve Steel built a new recreation area in Yenakiieve's Razdolovka district. The Razdolovsky Recreation Park project was implemented together with active members from the public organization Joint Care as part of Metinvest Group's "We Improve The City" program.
The Razdolovsky Park is the first large recreation area in Razdolovka, a residential district of Yenakiieve with population of about 3,000. The project was initiated by active citizens from the district, whose initiative was taken up by the public organization Joint Care.
The initiative to build the recreation area was submitted by the community members to Metinvest Group's contest for social projects under its "We Improve The City" program. A grant of UAH 50,000 was used to install a playground set, swings, rainbow climbing ladders, and pull-up bars. Benches and trash cans were placed around the playground and an artificial irrigation system was installed.

Yenakiieve Steel also allocated additional funds for area greenery. Community members and residents of the district participated in a collective cleanup event, where they removed almost 1,000 tons of trash and planted about 600 nursery lime trees, bird cherry trees, ashtrees and jasmine bushes.

The modern recreation area for children was officially opened on 22 November 2013 by Yenakiieve Steel's Planning and Logistics Director Dmitry Litvinov, Deputy City Mayor Vera Krokhmalyuk and Joint Care Chairperson Svetlana Moldavanova. Project partners, representatives of Metal-Transit LLC and the Yenakiieve branch of Donetsk Elektroapparat UTOS (employing blind people), also participated in the ceremony.

"Recently, in April, a wonderful park was created at this site, which, I am confident, will soon improve not only Razdolovka but all of Yenakiieve," said Deputy City Mayor Vera Krokhmalyuk. "The blooming trees make this area comfortable, peaceful and quiet so that elderly people from our city can rest here. This day is also special for the children: a new, bright and colourful playground has been opened. I am sincerely thankful to Metinvest for the opportunity for truly wonderful ideas and the implementation of projects initiated by our city.

The celebration included the cutting of a red ribbon, energizing songs about childhood and performances by actors in fairy-tale costumes. The special atmosphere was created by the many children who were there that day. Sixty students of School #1 were specially invited for the opening of the playground. The kids gave their assessment of what they saw right away.

"It's all super, so beautiful, even ballons are here," said 5B grade students Vika and Milana, of their impressions. "This area was filled with thicket before, and now there are so many swings! We have already tried the slide."

"Finally, we have a place to take our kids to. Though Razdolovka is a pretty large district, we have nothing special here for children. Even the school takes children only beginning with the fifth grade. Therefore, we have big plans for this park," smiles Zinaida Vasilievna, who came to the park with her grandson Vadim. "See, the little one is dancing, indicating that he wants to go to the playground."

"Due to the "We Improve The City" program, more and more places for recreation are opening in Yenakiieve, areas are improving, and buildings and premises are being remodelled. All of these social projects are initiated by the citizens of Yenakiieve who want to make their life more beautiful and comfortable. This is the idea we based our corporate program on, and we are glad it all worked out," Dmitry Litvinov, member of the Yenakiieve City Council and Director of Logistics at Yenakiieve Steel, said at the playground's opening ceremony.

The "We Improve The City" program is implemented as part of the social partnership agreement between Yenakiieve Steel, Metinvest Group and the Yenakiieve City Council. The document was signed in March of this year. The agreement was signed by City Mayor Valery Oleynik, Metinvest CEO Igor Syry and Yenakiieve Steel General Director Aleksandr Podkorytov. Yenakiieve Steel will allocate over UAH 7.2 million to implement social programs in Yenakiieve as part of trilateral agreement.
For editors:

Yenakiieve Steel is one of the world leaders in square billets production. The Group is comprised of PJSC "Yenakiieve Iron and Steel Works" and Ukrainian-Swiss Joint Venture "Metalen" LLC, which both carry out economic activity at common production facilities and have united production cycle. The company produces cast billet, rebar and various rolled sections (beams, channels, angles, etc.) as well. Yenakiieve Steel is a part of Metinvest Group's Metallurgical Division.

Metinvest is vertically integrated group of mining and steel making companies managing assets in each step of production chain starting from iron ore materials and coke mining ending with semi-finished products and finished steel products, pipes and coils as well as other value-added products. The Group consists of mining and steel making facilities located in Ukraine, Europe and USA and has sales network covering all key world markets. Major Metinvest's shareholders are SCM Group (75%) and Smart-Holding (25%) managing the Company jointly.