5 November 2013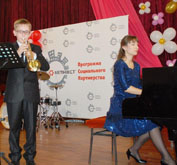 Yenakiieve Steel provided a grant to purchase 17 musical instruments for the city's youth last week as part of its "We Improve the City" program. The instruments will be used to form the city's first children's wind orchestra.
The project was initiated by the public union "Children. Music. Future." for the Tchaikovsky Art School, which provides education and artistic performances to Yenakiieve residents. Its graduates are well regarded in music, painting, choreography, and other arts.

A ceremony was held in the concert hall of the Tchaikovsky Art School to present the wind instruments.

Yenakiieve Mayor Valery Oleynik, Yenakiieve Steel General Director Aleksandr Podkorytov, Tchaikovsky Art School Director Tatyana Galtsova, and "Children. Music. Future." President Elena Tsymbal participated in the event.
"This is a wonderful, long-expected event. Music lessons develop a sense of beauty and spirituality in our children," said Oleynik. "That is why they will perform well in the future. I invite the children to all city events as they will brighten up all of our ceremonies."
Tsymbal said that she dreamt that wind music could be revived in Yenakiieve when she submitted the application for the project.
"Today many children can start playing and develop their hobby as music. Our public organization puts a lot of effort and uses its opportunities to improve the cultural level of the city, and to establish comfortable conditions for our children," said Tsymbal. "The "Establishment of a City Children's Wind Orchestra" project had these targets. We would like to express our gratitude to Metinvest, the plant, and the city administration for their assistance."
Yenakiieve Steel has always been closely related with wind music and supported creative initiatives. A wind orchestra for adults, which was founded at the beginning of the previous century, was supported by Yenakiieve Steel.
"This event means creative process is continuing. The young musicians will become a pool for a band of adults," said Aleksandr Podkorytov, Yenakiieve Steel's general director.
The official portion of the ceremony was closed by a concert of wind instruments, including pipes, saxophones, flutes, trombones, coronets and drums.
"My grandson has been involved in music since childhood. He takes after his mother, who graduated from the music conservatory in Kyiv," said Aleksandra Minaeva, grandmother of Ilya. "I am very glad that the city has such instruments because children should have something to do and what can be better than music?"
The new orchestra expects to attract children 9-14 years old. The band will play various music from classical to modern. Lessons will be offered on a schedule. The students will soon play at citywide events.
For editors:

Yenakiieve Iron & Steel Works is one of the world's leaders in square billet production. It produces cast billet, rod, and various sections (beams, channels, angles, etc.).

Metinvest Group is a vertically integrated group of steel and mining companies that manages every link of the value chain, from mining and processing iron ore and coal to making and selling semi-finished and finished steel products. It has steel and mining production facilities in Ukraine, Europe and the US, as well as a sales network covering all key global markets. Its strategic vision to become the leading vertically integrated steel producer in Europe, delivering sustainable growth and profitability resilient to business cycles and providing investors with returns above industry benchmarks. The Group reported revenue of USD 3.1 billion and an EBITDA margin of 15% in the first quarter of 2013.

The major shareholders of Metinvest B.V. (the holding company for Metinvest Group) are SCM Group (71.25%) and Smart-Holding (23.75%), which partner in the Group's management.

Metinvest Holding, LLC is the management company of Metinvest Group.