25 October 2013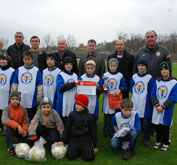 Metinvest Group, Football Club Shakhtar, and the Yenakiieve City Council held a football tournament to mark the 45th anniversary of Georgiy Beregovoy's space flight.
About 200 boys from 7-16–years old participated in the event.

The tournament involved 12 teams from Vatutina and Filtrovalnaya micro-districts, downtown Yenakiieve, and from Yunokommunarovsk, who participated in matches over a month. The final matches took place in Yenakiieve Steel's Metallurg stadium.
A team from the Vatutina micro-district won the junior group (7-9 year olds) and the intermediate group (10-12 year olds), while a team from Yunokommunarovsk won the senior group (14-16 year olds).

Goalkeeper Vladislav Malyshev, striker Dmitry Vakulko (both from Vatutina), and player Aleksandr Romanov (from Filtrovalnaya) were named the best players in the junior group. Goalkeeper Danil Pavlenko (downtown), striker Ilya Chutchev and player Anton Rtishchev (both from Vatutina) were named the best in the intermediate group. Goalkeeper Maksim Mashko, player Vitaly Levchenko (both from Yunokommunarovsk), and striker Yevgeniy Sorokin (Filtrovalnaya) were recognized in the senior group.

Andrey Zaikin, Yenakiieve Steel's HR Director, and Farkhat Umurzakov, Yenakiieve City Council's head of the department for family, youth and sports, handed out the awards. Igor Leonov, former half-back of FC Shakhtar, two-time winner of the Cup of Ukraine, and a senior trainer at FC Shakhtar's children's football academy, gave FC Shakhtar-branded awards to the kids.

"This tournament was the first of an ambitious program to involve as many children as possible in sports," said Valentin Stepanov, director of FC Shakhtar's branch in Yenakiieve. "We plan to organize the tournament between cities around Yenakiieve in the next year. No matter how trivial it is, we provide an opportunity for boys to not waste their time outside and to live a healthy lifestyle. These tournaments also allow our trainers to find the children with good football skills. For example, we identified six boys from the junior and intermediate groups today."
For editors:

Yenakiieve Steel is one of the world's leaders in square billet production. It produces cast billet, rod, and various sections (beams, channels, angles, etc.).

Metinvest Group is a vertically integrated group of steel and mining companies that manages every link of the value chain, from mining and processing iron ore and coal to making and selling semi-finished and finished steel products. It has steel and mining production facilities in Ukraine, Europe and the US, as well as a sales network covering all key global markets. Its strategic vision to become the leading vertically integrated steel producer in Europe, delivering sustainable growth and profitability resilient to business cycles and providing investors with returns above industry benchmarks. The Group reported revenue of USD 3.1 billion and an EBITDA margin of 15% in the first quarter of 2013. The major shareholders of Metinvest B.V. (the holding company for Metinvest Group) are SCM Group (71.25%) and Smart-Holding (23.75%), which partner in the Group's management. Metinvest Holding, LLC is the management company of Metinvest Group.