24 October 2013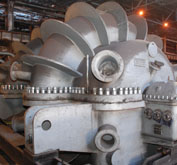 Metinvest Group's Yenakiieve Steel installed a new turbine and compressor unit to provide additional blast air to the plant's blast furnaces last week.
"The metallurgical industry is now focused on reducing costs," said Aleksandr Podkorytov, Yenakiieve Steel general director. "Blast furnace productivity depends a lot on the stability of blast air. This highly effective blast air generator will allow us to reduce coke consumption, which increases hot metal output and in turn raises continuously cast billet production."
The turbine and compressor unit will be the most powerful of its kind at the plant; its capacity is 5,500 cubic meters of air per minute. It was built by the companies that installed a similar unit at Blast Furnace #3. The equipment will be supplied by ČKD Nové Energo (Czech Republic); the automated process control unit was made by Siemens (Austria). Civil works were performed by Spetsenergomontazh (Ukraine).
Installation of the unit's steel structures (platforms, stairs, and other facilities) and reconstruction of the electricity supply unit is still in progress. Relevant infrastructure is also under construction, including a recycled water supply system and process-related sewage system.
The USD 22.6 million project is being implemented as part of Metinvest Group's initiative to modernize its enterprises, according to its Technological Strategy.
EMZ's three blast furnaces have been receiving blast air from five turbine blowers, whose output is not sufficient to operate the blast furnaces; three of these blowers are obsolete.
For editors:

Blast air is compressed air enriched with oxygen and hydrocarbon fuel fed into a blast furnace. The quantity and stability of blast air pressure affects the productivity of a blast furnace.

Turbine and compressor units feed blast air into the blast furnace and are an important component of blast furnace production. Interruptions in blast air supply for more than two days can lead to the suspension of hot metal production, furnace cooling, and the destruction of the furnace.

Yenakiieve Steel is one of the world's leaders in square billet production. It produces cast billet, rod, and various sections (beams, channels, angles, etc.).

Metinvest Group is a vertically integrated group of steel and mining companies that manages every link of the value chain, from mining and processing iron ore and coal to making and selling semi-finished and finished steel products. It has steel and mining production facilities in Ukraine, Europe and the US, as well as a sales network covering all key global markets. Its strategic vision to become the leading vertically integrated steel producer in Europe, delivering sustainable growth and profitability resilient to business cycles and providing investors with returns above industry benchmarks. The Group reported revenue of USD 3.1 billion and an EBITDA margin of 15% in the first quarter of 2013. The major shareholders of Metinvest B.V. (the holding company for Metinvest Group) are SCM Group (71.25%) and Smart-Holding (23.75%), which partner in the Group's management. Metinvest Holding, LLC is the management company of Metinvest Group.