10 October 2013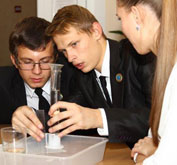 Metinvest Group's Yenakiieve Steel gave modern laboratory equipment to the Yenakiieve Lyceum of Information Technology for its physics, chemistry, biology, and geography classrooms.
In total, 300 pieces of equipment were donated, at a cost of UAH 325,000, including utensils for chemical reactions; methodological guides on mechanics, molecular physics, and thermodynamics; rock collections; various types of herbaria; anatomic models; project kits; demonstration equipment; and all kinds of audio-visual aids.
The project was part of Metinvest Group and Yenakiieve Steel's social partnership program with the city of Yenakiieve.
"Our education is focused on in-depth learning of exact sciences and computer science based on a special curriculum," said Olga Dekhtyaryova, director of the lyceum. "Therefore, the availability of the most modern educational equipment is as important as experienced teachers. Last year we approached city officials with an initiative that was included into the Social Partnership Program in 2013. Now our students are able to learn not only theory, but also through practical assignments and do project work."
"Today over 500 professions are engaged in the production process. These are not only sinter-workers, blast furnace-workers and steel-makers. Very important professions include energy engineers, electric welders, accountants, and lab technicians," said Aleksandr Podkorytov, Yenakiieve Steel general director. "We are very interested in people and it is best to develop them ourselves. Therefore Metinvest prefers investing in its future employees from the very beginning, at school, by providing quality equipment to students. Children will be able to keep up with the times, and teachers will be able to fully realize their professional skills."
2013 marks the second year that Metinvest Group and Yenakiieve Steel have signed a social partnership agreement with the Yenakiieve City Council. Financing of the program was increased two-times this year.