26 September 2013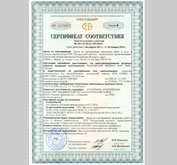 Metinvest Group Yenakiieve Steel's Makiivka branch completed a certification audit of its rebar in Belarus. A new inspection was required following the adoption of new Belarusian national standard STB 1704-2012.
The audit was carried out by the Belarusian Institute of Structural Engineering of the Corporate Affairs Office of the President of the Republic of Belarus on the branch's S500 and S400 rebar. Makiivka branch specialists selected product samples and conducted preliminary checks in a testing laboratory under the tight control of Belarusian inspectors.
The audit committee also visited the rolling shop of Yenakiieve Steel's Makiivka branch to observe the entire production process for products of interest. The inspectors evaluated the enterprise's quality management system as in line with the requirements of ISO 9001.
"Our production analysis program encompasses a full control check from incoming control to final acceptance testing and the release of finished products," said Inessa Taranova, leading expert on product and service certification of BelSertifikat RUE of the Belarusian Institute of Structural Engineering.
Belarus' new STB 1704-2012 standard went into effect on 1 January 2013 and increased the requirements for the mechanical properties of rebar. For example, the bend test limit of rebar was increased from 90 degrees to 180 degrees. Initial certification of Yenakiieve Steel Makiivka branch rebar for compliance with the previous standard, STB 1704-2006, was carried out in 2010.
"We work hard every day to expand our product mix and improve its quality. Our key objective is to meet the requirements of our clients both within Ukraine and abroad," said Alexander Podkorytov, Yenakiieve Steel general director.
For editors:

Yenakiieve Steel is one of the world's leading square billets producers. The plant includes PJSC Yenakiieve Iron and Steel Works and Ukrainian-Swiss Joint Venture Metalen, LLC, which share production facilities. Yenakiieve Steel produces cast billet, rebar, and various rolled sections (beams, channels, angles, etc.). Yenakiieve Steel is part of Metinvest Group's Metallurgical Division.

Metinvest Group is a vertically integrated group of steel and mining companies that manages every link of the value chain, from mining and processing iron ore and coal to making and selling semi-finished and finished steel products. It has steel and mining production facilities in Ukraine, Europe, and the US, as well as a sales network covering all key global markets. The major shareholders of Metinvest B.V. (the holding company for Metinvest Group) are SCM Group (71.25%) and Smart-Holding (23.75%), which partner in the Group's management.