23 September 2013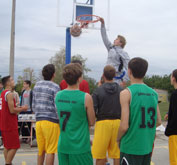 Metinvest Group Yenakiieve Steel's Makiivka branch funded construction of the first street basketball court in one of the largest residential areas of Makiivka, the Mirnyi microdistrict.
The 225 square meter streetball court was installed at School #49, which was recently also equipped with new football pitches, running lanes, and other gym equipment.
"All types of basketball are being actively developed in Makiivka," says Oleg Golovin, chairman of the Makiivka Basketball Federation. "Makiivka's mayor helped us to launch the School Basketball League Project. Our city is the best in this sport among other cities in Donetsk oblast. Our city did not used to have any special courts for streetball and searching for investments was not simple. Metinvest's competition inspired us: We quickly wrote the proposal and found the perfect place to do it – on empty land near School #49."
The project was submitted by the Makiivka Basketball Federation for funding through Metinvest's "We Improve the City" program. The project's budget was UAH 60,000.
After winning the grant, volunteers began work at the site immediately to remove deadwood and level the territory. Contractors created a smooth asphalt surface, which is the most important component of a streetball court, and installed a vandal-proof backboard and hoop. The court's lines and markings were done by the Makiivka Basketball Federation. Benches and lighting are also planned to be installed. The estimated life of the new court is about 25 years.
"It always makes me feel confident and optimistic when I see the new facilities being created," said Alexander Podkorytov, general director of Yenakiieve Steel. "This means that the city and the plant are alive and developing. It means that we have people to create new facilities and people to use them. We were glad to see that Makiivka citizens were actively involved in the "We Improve the City" competition, especially considering this was their first opportunity to participate in this program. Moreover, Makiivka citizens are quickly beginning work on their projects after getting their grants from Metinvest. I am sure that lots of recreational facilities will open in Makiivka by the end of the year."
The new court will already host 12 school teams for the School Basketball League Grand Tournament in mining cities, which is part of the festivities in the run-up to Ukraine hosting FIBA EuroBasket 2015.
"I've been playing basketball for seven years," said Kamil Shadjaulla, a 14-year-old area resident. "But there are no courts like this in Khanzhonkovo where I live. I came here today already to try out the court. I really like it – it's soft and level. Playing on it is nice and easy. My friends also like it. Now we will come to play here whenever we can."
For editors:

Streetball is a pickup game. It differs from the traditional basketball by a number of players, there are six of them (3-on-3 game) and play-zone which is only a half of the court.

Yenakiieve Steel is one of the world leaders in square billets production. The Group is comprised of PJSC "Yenakiieve Iron and Steel Works" and Ukrainian-Swiss Joint Venture "Metalen" LLC, which both carry out economic activity at common production facilities and have united production cycle. The company produces cast billet, rebar and various rolled sections (beams, channels, angles, etc.) as well. Yenakiieve Steel is a part of Metinvest Group's Metallurgical Division.

Metinvest is vertically integrated group of mining and steel making companies managing assets in each step of production chain starting from iron ore materials and coke mining ending with semi-finished products and finished steel products, pipes and coils as well as other value-added products. The Group consists of mining and steel making facilities located in Ukraine, Europe and USA and has sales network covering all key world markets. Major Metinvest's shareholders are SCM Group (75%) and Smart-Holding (25%) managing the Company jointly.