19 September 2013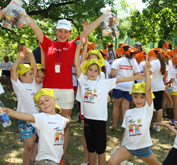 Metinvest Group's Yenakiieve Steel and its Makiivka branch spent about UAH 7.8 million to subsidize summer vacations for 2,500 employees and their families.
Yenakiieve Steel and its Makiivka branch employees and their family members visited the coast of the Azov and Black seas; the forest near the Yatskovka (Kharkiv oblast) and Nizhnya Krynka settlements (Donetsk oblast); and recreation centers in Morshyn, Myrhorod, Khmelnytsk and Slavyansk. Employees paid 10-30% of the price for their stay (approximately UAH 2,000-7,000).
The V. Dubinin Country Health Improvement and Recreation Centre, located in the forest near Yenakieve, hosted over 400 children of Yenakiieve Steel employees. Yenakiieve Steel and its Makiivka branch spent UAH 811,000 to subsidize the children's stays; employees only paid UAH 195 for each child (10% of the total price).
The center was staffed by 30 highly qualified educators and medical staff from the Yenakiieve City Hospital, and offers activities including choreography, vocal training, outdoorsmanship, and aerobics. It has two modern swimming pools. Children were given five meals a day. The center's infirmary has equipment and medicine for rehabilitation and emergency care. One of the "sunny" area buildings was renovated with new windows and siding, and a new sun and rain shelter was built in the "forest" area.

"By investing in the vacations of our employees and their children, we are contributing to the future of our enterprise," said Alexander Podkorytov, Yenakiieve Steel general director. "That is why we develop social programs and recreational options for employees of Yenakiieve Steel and its Makiivka branch. Funding for the health program was UAH 600,000 higher than in 2012."
For editors:

Yenakiieve Steel is one of the world leaders in square billets production. The Group is comprised of PJSC "Yenakiieve Iron and Steel Works" and Ukrainian-Swiss Joint Venture "Metalen" LLC, which both carry out economic activity at common production facilities and have united production cycle. The company produces cast billet, rebar and various rolled sections (beams, channels, angles, etc.) as well. Yenakiieve Steel is a part of Metinvest Group's Metallurgical Division.

Metinvest is vertically integrated group of mining and steel making companies managing assets in each step of production chain starting from iron ore materials and coke mining ending with semi-finished products and finished steel products, pipes and coils as well as other value-added products. The Group consists of mining and steel making facilities located in Ukraine, Europe and USA and has sales network covering all key world markets. Major Metinvest's shareholders are SCM Group (75%) and Smart-Holding (25%) managing the Company jointly.