13 September 2013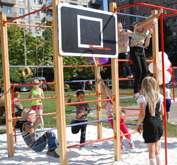 Metinvest has opened the biggest sports complex and playground in urban district Zelenyi in the Gornyatskiy region of Makiivka. New facility has been constructed through activities of citizens that became the winners of Metinvest competition "We Improve Our Town with Our Own Hands" this year.
The project by Makiivka activists with life-affirming name "Movement is Life" will allow children and young people, which is about one thousand of people, maintaining an active lifestyle and have outdoor activities. The project authors are activists of "Phenix - Lyubava 2008 ", EBMS (Evidence-Based Medicine Specialists). The main project aim is to provide conditions for children physical development and health.
The first Playground Complex, located in Zelenyi region, occupies 100 m2. The playground is divided into age-related areas: here children from 1 to 15 years old can be comfortable. For the little ones there are swings, sandpit, and such sport units as ring and horizontal bar. Teens have the opportunity to play on mini football field and basketball court. Moreover, the young Makiivka citizens can do trunk curls with a special gym simulator and develop the muscles with the three-level horizontal bar.

- Previously the basketball and volleyball courts were located here. But sports equipment had been removed a long ago and there was only asphalt cover left - says Victor Potapenko, the project author, chairman of "Phenix - Lyubava 2008 ", EBMS. - When Metinvest Group announced a competition for the best social project in our town, we had immediately decided to take part in it. Our project "Movement is life," due to its collective creative and useful activities, helped to unite children as well as their parents, citizens of our microsociety
To reach the goal, the project team together with volunteers from nearby houses spent a few volunteer clean up days during the summer to improve the area near houses No. 32, 34, 35, 36. A part of this area was reserved for the construction of children's playground.
- I'm happy that we can enjoy such a wonderful playground in our court. I'm grateful to everyone who has participated in its building, - says Natalia Gaychenya, the resident of the house No. 35, Zeleniy urban district. – This court had nothing of the kind when we moved here last year. The nearest swings were too far away. Now everything we need is just outside our windows, and we don't have to cross the street. My son Andrey is two years old, and he enjoys the swings and the sandpit most of all. We go outside in the morning when the swings are not occupied by schoolchildren, and my son can swing as long as he wants.
The special sport and playing equipment was purchased with grant funds allocated by Metinvest
(amounting up to UAH 50 000). A state-of-the-art complex sports ground was installed through joint efforts of citizens, children and young people, and also with the participation of Physical Culture and Sports Committee of Gornyatskiy region. It will also become a venue for mass culture events. Since it is still warm outside, inter-yard competitions "Merry starts" will be held there soon.

- The contest "We improve our town with our own hands" runs perfectly not only in Yenakievo, but also at the other enterprises of Metinvest Group, - noted Alexander Podkorytov, General Director of Yenakiieve Steel. – First time ever Makiivka citizens took part in a social contest and made at once a record number of applications - 29 projects! We were very pleased with such response reaction. It means that citizens want to make their town, courts and houses better and more comfortable for living. It also means that Makiivka citizens believed that their dreams are truly possible to realize with Metinvest support.
It should be reminded that in 2013 seven projects won the contest "We improve our town with our own hands" in Makiivka. Due to the grant funds allocated by Metinvest, the only park in Sovetskiy region (Makiivka) can be revived. There will also appear a specially equipped fitness center in Zelenyi urban district. A street basketball playground will be built in Mirnyi urban district on the basis of the school No. 49. A climbing wall will be erected in Gvardeyskiy block on the basis of the Children and Youth's Sports School "Zarevo". The teaching staff of the school No. 108 decided to help children with special needs in developing their abilities. A study room and some leisure rooms will be arranged on the basis of that school. Makiivka citizens will be able to develop their creative talents in the recording art-studio "Zvezdnoye nebo", which is to be established in the Children and Youth's Creativity Center (Gornyatskiy region).
For editors:

Social program "We improve our town with our own hands" is being implemented by Metinvest Group since 2011. The program is aimed at citizens' social life activation, support of current projects increasing the living standards in the towns of Meinvest presence. The program covers competition and subsequent funding of innovative and outstanding projects of social importance. Proactive teams or bodies must formulate issues of concern, prove their important municipal role and suggest possible solutions. Every year the program's popularity is growing. In 2011 pilot version of the program was running in two cities and last year it embraced three regions of Ukraine: Donetsk, Dnepropetrovsk and Lugansk. In 2012 program coordinators received 297 applications and the Company supported 61 social projects for the total amount of UAH 3.5 mln. Among these projects are waterpark in Yelenovka settlement (Yenakievo), complex revamping of tot-lot area in the Park n.a. Leporskiy in Mariupol, modern sports grounds and children's playgrounds in Krivoy Rog, Krasnodon and Avdeyevka, ecological path in Khartsyzsk and dozens of other socially important initiatives. An essential addition to the program in 2013 is the training of program participators for basic social designing and project management. Such innovation ensures higher quality and realization of winning projects, as well as general development of project education among non-commercial section of cities of Metinvest presence. Detailed information on the program realization can be found on Metinvest web-site section "Responsibility", subsection "Corporate Social Programs".

PJSC Yenakiieve Iron and Steel Works is one of the leading world manufacturers of square billet. The enterprise produces cast billet, bar products and various section rolled products (beams, channels, angles, etc.). Yenakiieve Steel is part of Metinvest Group's Metallurgical Division.

METINVEST GROUP is an international vertically integrated steel and mining group of companies, managing every link of the value chain, from mining and processing iron ore and coal to making and selling semi-finished and finished steel products. The Group comprises steel and mining production facilities located in Ukraine, Europe and the USA and has a sales network covering all key global markets. The Group consists of Metallurgical and Mining Divisions. Metinvest's strategic vision is to become the leading vertically integrated steel producer in Europe, delivering sustainable growth and profitability resilient to business cycles and providing investors with returns at above the industry benchmarks. In 2012 company's profit amounted to USD 12.6 bln., and its EBITDA rate was 16%.
The major shareholders of the Company METINVEST B.V. (a holding company of Metinvest Group) are SCM Group (71.25% ownership) and Smart-Holding (23.75% ownership) partnering in Company's management.

METINVEST HOLDING LLC is the managing company of Metinvest Group.