4 September 2013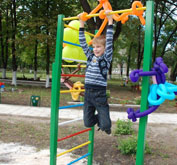 New Playground Grand Opening Ceremony took place at Yenakievo Social Rehabilitation Center for Children with Disabilities. The playground construction was launched by "Let's Create a Playground Together" Yenakievo Public Organization with support of Metinvest.
Playground Grand Opening attended leaders of the public organization, Social Rehabilitation Center for Children with Disabilities, representatives of town authorities, administration of Yenakiieve Steel (an Asset of Metinvest Group) and, of course, children together with their parents, who were guests of honor.
Social Rehabilitation Center for Children with Disabilities aims at helping children who need special care, and there are about 500 of them in Yenakievo. All the children can attend Social Rehabilitation Center where teachers and doctors give them necessary tender loving care. Lessons are held in a comfortable environment as the building is restored systematically due to assistance of Town Major, Valeriy Oleynik. Yet, the issue of some area for outdoor activities remained opened.
To play outside the children had to visit playgrounds located close to neighbor houses before. But moving any extra distance for the children from Social Rehabilitation Center is always troublesome.
- Our children are special, not all of them can play at standard playgrounds, arranged in the town, - says Olga Belik, mother of little Alina who is six years old. – Most parents feel uncomfortable there, as our community is not willing to accept such children yet.
Thus "Let's Create a Playground Together" Public Organization came to the rescue to little Yenakievo citizens and settled this issue. Backed by Yenakievo Authorities and Metinvest Company they managed to construct large playground close to Rehabilitation Center, with flowerbeds, trees, new benches and lanterns on it. The playground is equipped both with standard play sets such as carrousels, swings, sandpits and sliding boards, as well as special equipment for children with disabilities.
- There used to be plain territory with some grass and trees on it. That inspired us to create a comfortable leisure area, called "Fairy Islet". Children need to have outdoor activities and their parents need to have some rest and chat a bit. So, parents decided to create a public organization to participate in a Competition for the Best Social Project by Metinvest. It is hard task to take care of a child with disability, but joining our efforts and supporting each other we are able to overcome our problems, - expresses her thoughts Natalya Tovkaylo, Leader of "Let's Create a Playground Together" Public Organization, mother of little Sasha, who is six years old.
The Playground Grand Opening was organized in a form of a stage show. Welcome addresses were delivered by Vera Krokhmalyuk, Deputy Major and Mariya Klimnyuk, representative of Metinvest Company. The organizers highlighted that being a pilot project Yenakiieve example will definitely give rise to similar initiatives in other towns of Donetsk region.
"Fairy Islet" is a winning project of the Competition for the Best Social Project carried out by Metinvest within "We Improve Our Town with Our Own Hands" programme in 2013. Each of seven winning public organizations of Yenakievo has got UAH 50 000 under the competition. Due to initiative of concerned citizens it is now possible to create new leisure area in Razdolovka Park, to install a climbing wall for climbers' training, to route irrigation system for flowerbeds in the center of the town, to organize a Youth Brass Band and to arrange a basketball court at School No.15. Another facility for children with special needs is an Art Therapy Center established in August by "Womens' Union of Ukraine" Municipal Organization.
- Together with Town Authorities and Social Rehabilitation Center we put maximum efforts to establish additional facilities for recreation and development of these children. Each child shall exercise, have rest and play with friends at a secluded area of this playground, - commented the social initiative by Yenakievo citizens Alexander Podkorytov, General Director of Yenakiieve Steel. – It is essential for us to know that children feel our care, that they keep growing up strong and healthy.
Another playground is to be opened at a large residential area of Makiivka by Metinvest and Yenakiieve Steel.
For editors:

PJSC Yenakiieve Iron and Steel Works, comprised of Yenakiieve Steel and its Makiivka branch, is a world leader in commercial billet production. The company produces cast billet, bar products and various section rolled products (beams, channels, angles, etc.) as well. Yenakiieve Steel is part of Metinvest Group's Metallurgical Division.

METINVEST GROUP is an international vertically integrated steel and mining group of companies, managing every link of the value chain, from mining and processing iron ore and coal to making and selling semi-finished and finished steel products. The Group comprises steel and mining production facilities located in Ukraine, Europe and the USA and has a sales network covering all key global markets. Metinvest consists of Mining and Metallurgic Divisions. Metinvest's strategic vision is to become the leading vertically integrated steel producer in Europe, delivering sustainable growth and profitability resilient to business cycles and providing investors with returns at above the industry benchmarks. In the first half of 2012 Group got a profit at the amount of USD 6.74 bln. The profitability acc. to EBIDTA index was 16%.

The major shareholders of the Company METINVEST B.V. (a holding company of Metinvest Group) are SCM Group (71.25% ownership) and Smart-Holding (23.75% ownership) partnering in Company's management.

METINVEST HOLDING LLC is the managing company of Metinvest Group.