10 July 2013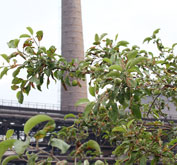 Yenakiieve Iron and Steel Works holds a leading position as an investor of the environmental measures, intended to reduce the emissions, pollutants and greenhouse gases to the atmosphere. This fact was mentioned in the official letter from the Head of Main Statistics Body in Donetsk region addressed to Alexander Podkorytov, General Director of Yenakiieve Steel.
This document informs that according to State statistical reporting results development in "Atmospheric Air Protection report" due form the rating of Works if Donetsk region, which invest considerable costs for measures, intended to reduce the emissions, pollutants and greenhouse gases to the atmosphere, has been done for 2012.
In the regional top list Yenakiieve Steel holds a leading position among the Assets of Metinvest Group (as well as in 2011). Last year total volume of the investments of the top 10 Assets for air pollution control measures implementation amounted to UAH 686 mln. or 96% of overall expenses throughout the region. The second place passed to Pokrovskoye Mine office (Krasnoarmeysk). PJSC Energomashspetsstal (Kramatorsk) occupied the third leading position.
According to Environmental Protection Department data PJSC Yenakiieve Steel, Metinvest Group, spent UAH 123 mln. to realize the priority environmental actions last year. The environmental activity, implemented by PJSC Yenakiieve Steel, comprised the following actions: Multicyclone replacement at Sintering Machine No.4, a range of major overhauls execution with partial gas exhaust ducts reconstruction at BOF vessels No.2 and 3, LF repairs with equipment inspection, gas ducts cleaning, filter elements replacement, БКЗ № 3 boiler repair at Combined Heat and Power Station. During this period the major overhaul with electrostatic precipitator reconstruction has been realized behind the Kiln No.1. Design documents elaboration for strategically important projects, namely new Sinter plant construction and PCI Plant construction, has been classified as a priority action.
"Natural environment protection is one of the highest priorities of Metinvest Group. This strategy is also systematically implemented at our Works. Certainly, we have a range of open issues, but our Works undertook the commitments to local Community to improve the Eco situation in Yenakievo and we will fulfill them", – emphasized Alexander Podkorytov.