7 June 2013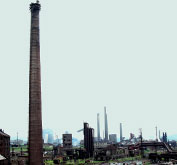 Yenakiieve Steel is proceeding with the New Sinter Plant Project. Currently 110 meters high stack demolition started at strategic construction site. Being the highest stack in Yenakievo it requires major labor input comparing to the other facilities at the new Sinter Plant site.
As the stack is within reach to some operating facilities it prevents from taking it down in one pull thus complicating dismantling works execution. To minimize risks a new unique vertical cutting technology using diamond tools was developed. It works as follows: a special platform for high riggers is prepared at the point of 80 meters above the ground level. Using special equipment they cut sections of brick lining and reinforced concrete structures and then drop them down the stack. To remove construction debris special hole was cut at the stack footing. When the leveling point of 50 meters is reached the stack footing would have slight undercut and the structure would be pulled down the construction site using special equipment.
It is expected to remove 500 cubic meters of reinforced concrete structures and 1700 cubic meters of brick lining during demolishing works.
"New Sinter Plant Project is being carried out according to schedule. Currently we are working simultaneously on two issues, namely old buildings dismantling at site and engineering package approval, - highlighted Alexander Podkorytov, General Director of PJSC Yenakiieve Steel. – As we consider the new Sinter Plant construction to be a crucial project for both economy and environment we tightened demolition stage deadlines by a month. By the end of August the stack will be completely removed."
It should be reminded that according to the New Sinter Plant Construction Project at Yenakiieve Steel it is foreseen to raise a brand new Sinter Plant which will comply with up-to-date environmental, technical and economic requirements. The new major project will allow doubling sinter output and at the same time decreasing air emissions by 7 times. The project is being carried out under Technical Development Investment Program of Metinvest Group Assets. The New Sinter Plant start-up is scheduled for 2016. Project funds amount to USD 360 mln. The project was initially estimated for USD 250 mln. However, being aware of its environmental significance Metinvest decided to up-value the New Sinter Plant Project by implementing state-of-the-art and reliable MEROS gas cleaning technology. Another crucial decision is to construct covered stock yard.
For editors:

PJSC Yenakiieve Iron and Steel Works, comprised of Yenakiieve Steel and its Makiivka branch, is a world leader in commercial billet production. The company produces cast billet, bar products and various section rolled products (beams, channels, angles, etc.) as well. Yenakiieve Steel is part of Metinvest Group's Metallurgical Division.

METINVEST GROUP is an international vertically integrated steel and mining group of companies, managing every link of the value chain, from mining and processing iron ore and coal to making and selling semi-finished and finished steel products. The Group comprises steel and mining production facilities located in Ukraine, Europe and the USA and has a sales network covering all key global markets. Metinvest's strategic vision is to become the leading vertically integrated steel producer in Europe, delivering sustainable growth and profitability resilient to business cycles and providing investors with returns at above the industry benchmarks.

The major shareholders of the Company METINVEST B.V. (a holding company of Metinvest Group) are SCM Group (71.25% ownership) and Smart-Holding (23.75% ownership) partnering in Company's management.

METINVEST HOLDING LLC is the managing company of Metinvest Group.