7 June 2013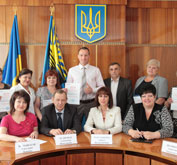 Metinvest announced the results of the first ever "We Improve Our Town with Our Own Hands" competition in Makiivka. Seven winners will bring their projects to life in 2013. All the projects aimed at creating favourable leisure environment for citizens. Metinvest investment amounted to UAH 350 000.
For the first time Makiivka community representatives were involved into Metinvest Social Competition. The projects submitted by the participants revealed their willingness to landscape parks, to create play and sport grounds, to develop creative talents of children and to preserve cultural heritage.
The Expert Council comprised of authority representatives, specialists of companies and organizations, leading experts in sustainable development from Ukraine, considered 29 various applications and managed to choose 7 best projects.
New sport grounds, landscaped leisure areas and child development centers will be created in some Makiivka districts soon. Veterans proposed to revive the only park in Sovetskiy district. Zelenyi district will get two new sport facilities. "Phoenix-Liubava" Housing Cooperative will arrange a play ground in the courtyard and will organize activities for it. "Nika Plus" Association of People with Disabilities will create specially equipped sport centre. Mirniy district will get a basketball court at School No.49. At Zarevo Youth Sport School of Gvardeyskiy neighborhood a climbing wall will be raised. School No.108 teaching staff undertook to support children with special needs in developing their talents. They will prepare a classroom and a play room for children to feel at home. Makiivka citizens will have an opportunity to develop their creative potential at "Zvezdnoye Nebo" recording art-studio based on Youth Creativity Center at Gornyak district.
"We were pleased to see Makiivka citizens being so much striving. They are willing to create lovely and comfortable living conditions. Active response of Makiivka community proved that they rely on Metinvest who will make their dreams come true", - highlighted Alexander Podkorytov, General Director of PJSC Yenakiieve Steel.
For editors:

Competition for the Best Social Project among public organizations, municipal authorities and local community is carried out under Social Corporate Programme "We Improve Our Town with Our Own Hands". The programme aims at developing social activity of the local community and promoting implementation of the vital projects which allow improvement of the social environment in METINVEST presence regions. The participants of the competition are social organizations, municipal authorities and action groups.

Yenakievo and Kryvyi Rih (Ingulets residence area) were chosen to carry out the pilot programs in 2011. Program is managed by Official Representatives of PJSC Ingulets Iron Ore Enrichment Works and PJSC Yenakiieve Iron and Steel Works in association with Town Councils. Positive experience gained at PJSC Ingulets GOK and PJSC Yenakiieve Steel was transferred to other Metinvest Works within Donetsk, Dniepropetrovsk and Lughansk regions in 2012.

More than 300 applications were put in to participate in the competition under the program. 61 social projects were chosen to be implemented. Funds allocated to carry out the best initiatives amounted to UAH 3.5 mln. There were 358 applications registered in 2013 which is 20% more than in 2012. Citizens of Makiivka and Petrovskiy district (Kirovograd region) joined Avdiivka, Yenakievo, Mariupol, Khartsyzsk, Komsomolskoye, Novgorodskoye, Krasnodon and Kryvyi Rih.

PJSC Yenakiieve Iron and Steel Works, comprised of Yenakiieve Steel and its Makiivka branch, is a world leader in commercial billet production. The company produces cast billet, bar products and various section rolled products (beams, channels, angles, etc.) as well. Yenakiieve Steel is part of Metinvest Group's Metallurgical Division.

METINVEST GROUP is an international vertically integrated steel and mining group of companies, managing every link of the value chain, from mining and processing iron ore and coal to making and selling semi-finished and finished steel products. The Group comprises steel and mining production facilities located in Ukraine, Europe and the USA and has a sales network covering all key global markets. Metinvest's strategic vision is to become the leading vertically integrated steel producer in Europe, delivering sustainable growth and profitability resilient to business cycles and providing investors with returns at above the industry benchmarks.

The major shareholders of the Company METINVEST B.V. (a holding company of Metinvest Group) are SCM Group (71.25% ownership) and Smart-Holding (23.75% ownership) partnering in Company's management.

METINVEST HOLDING LLC is the managing company of Metinvest Group.