3 June 2013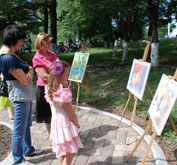 Yenakiieve Steel, Metinvest Group, opened the first ever Park of Arts in the town. The idea to create a park area devoted to art originated by teaching staff of the School of Arts under "We Improve Our Town with Our Own Hands" programme. Funds allocated by Metinvest to arrange cultural and leisure area exceeded UAH 100 000.
The unity concept of two arts - the fine arts and musical art - was taken as a basis while creating the park. Balanced design by School of Arts acquired both fine arts and musical attributes. Thus the main pathway is paved in the form of a violin clef and the paving stones close to the doorsteps are arranged as palette. Grass plots and flowerbeds, cozy benches and unique lanterns, all these components create comfy surrounding at the leisure area. From now on a shady park close to school becomes a place for leisure and cultural activities for 600 students, their parents and other citizens. The teachers are planning to organize concerts and art exhibitions there. During warm season artists would work en plein-air there.
"The idea to create the Park of Arts appeared a few years ago when for the first time we organized a concert devoted to the Children's Day, - sais Inessa Tsymbal, Principal of Tchaikovsky School of Arts in Yenakievo. – As we take care about the parents of our students it triggered the idea to bring this project to life. Our youngest students are only five years old. Their parents and grandparents take them to school. Thus they need to wait until the lesson is over. Our foyer provides insufficient space and there is no sitting place around the school at all. The project sprung from these small grains and was nourished by town authorities and Metinvest Company."
"We Improve Our Town with Our Own Hands" programme is being carried out in Yenakievo for three years and already promoted lots of vital projects either way aimed at children support. It shows that our citizens are aware of their future, - highlighted Alexander Podkorytov, General Director of Yenakiieve Steel. – Our Works is developing and willing to support citizens in creation comfortable living conditions. In 2013 new community beneficial initiatives of citizens will be carried out under Metinvest social programme.
It should be mentioned that "We Improve Our Town with Our Own Hands" programme is being carried out this year either. In June competition results will be summarized and the winners will be announced. Each winner will be granted with up to UAH 50 000 to bring the project to life.
For editors:

Competition for the Best Social Project among public organizations, municipal authorities and local community is carried out under "We Improve Our Town with Our Own Hands" Social Corporate Programme. The programme aims to develop social activity of the local community and to promote implementation of the vital projects which allow improving the social environment in METINVEST presence regions.

Five projects won in Yenakievo under "We Improve Our Town with Our Own Hands" competition in 2012. They are: Park of Arts at Tchaikovsky School of Arts in Yenakievo, Water Park in Yelenovka residential area (Yenakiievo), playground at Vatutin residential area, replacement of windows at "Topolyok" (Small Poplar) preschool and Child Development Center based on unique practice by Maria Montessori. All the above mentioned projects are fulfilled by the present day.

PJSC Yenakiieve Iron and Steel Works, comprised of Yenakiieve Steel and its Makiivka branch, is a world leader in commercial billet production. The company produces cast billet, bar products and various section rolled products (beams, channels, angles, etc.) as well. Yenakiieve Steel is the only producer of shapes for elevator tracks within Ukraine. Yenakiieve Steel production performance for 2011 is as follows: 1,9 mln. tones of hot sinter, 2,3 mln. tones HM, 2,7 mln. tones of liquid steel, 2,6 mln. tones of rolled product. Yenakiieve Steel is the only producer of shapes for elevator tracks within Ukraine.

Two up-to-date blast furnaces (BF No.3 and BF No.5) and first continuous casting machines (CCM) manufactured in Ukraine are operating at Yenakiieve Steel. In 2012 BF No.3 was acknowledged as the best industrial facility in Ukraine according to the competition by Ministry of Regional Development, Construction and Housing of Ukraine.

For the second time Yenakiieve Steel implements in its towns of its presence (Yenakiievo and Makiivka) the "We improve our town with our own hands" social programme. The allocated funds amounted to USD 500 th. for 2011-2012.

In 2012 Yenakiieve Steel management and local authorities of Yenakievo and Makiivka signed "Town-Works" social and economic development agreement, aimed at creating comfortable living conditions for citizens. In 2013 Metinvest plans to invest UAH 7 mln. in social infrastructure development of the towns.

Yenakiieve Steel is a part of Metinvest Group's Metallurgical Division.

METINVEST GROUP is an international vertically integrated steel and mining group of companies, managing every link of the value chain, from mining and processing iron ore and coal to making and selling semi-finished and finished steel products. The Group comprises steel and mining production facilities located in Ukraine, Europe and the USA and has a sales network covering all key global markets. Metinvest's strategic vision is to become the leading vertically integrated steel producer in Europe, delivering sustainable growth and profitability resilient to business cycles and providing investors with returns at above the industry benchmarks.

The major shareholders of the Company METINVEST B.V. (a holding company of Metinvest Group) are SCM Group (71.25% ownership) and Smart-Holding (23.75% ownership) partnering in Company's management.

METINVEST HOLDING LLC is the managing company of Metinvest Group.

Get more information at www.metinvestholding.com