20 May 2013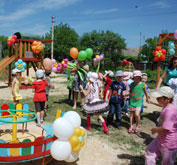 PJSC Yenakiieve Steel, Metinvest Group, has opened the first children's playground in one of the residential areas of Uglegorsk. This project has been implemented under social partnership program with the participation of Uglegorsk Municipal Council and public organization "Development fund of Uglegorsk community". Metinvest invested almost UAH 17,000 for creating a children's leisure zone.
The children's playground has been erected in the public garden of Severniy settlement in Uglegorsk (Yenakiieve Municipal Council). This place is a kind of cultural centre for 2,500 residents living in private sector houses.
"The inhabitants of Severniy settlement have been dreamt of children's playground for a long time, but the budget of our little town could not cover such project, - says Dmitriy Zorkin, the chairman of public organization "Development fund of Uglegorsk community", - There are a lot of kids in this settlement but there hasn't been any place for playing. The community sent a collective letter to Uglegorsk Municipal Council with the request of a little children's playground erection.
The Town Authorities of Uglegorsk considered this letter and, in turn, applied to Yenakiieve Steel Management with request to help the residents of Severniy settlement.
"The little towns always get much less, because the investment is mainly made for target projects and children's playground doesn't belong to them, - shares his ideas Mikhail Martynov, Mayor of Uglegorsk. – But children should not be deprived of their usual leisure activities and it is always possible to solve this problem. Yenakiieve Steel acceded to our collective letter and allocated funds for children's playground's equipment purchasing. We have prepared the site, delivered and set the elements together with volunteers".
Yenakiieve Steel has already equipped five children's playgrounds within last two years. They are situated in the densely populated residential areas of the town: in the central part, in the settlement named after Vatutin and in Krasniy Gorodok settlement.
"We have already got some cooperation experience with Uglegorsk. Last year we have successfully implemented the common project of setting the new heating boilers at school, with the support of the European Union and United Nations Development Program, - noticed Alexander Podkorytov, General Director of PJSC Yenakiieve Steel. – The playground in this little settlement is just the first step of our effective cooperation with the town in 2013. We are looking forward to the successful implementation of this big project –The Culture and Leisure Centre building reconstruction in Uglegorsk.
It should be noticed that in March 2013 the trilateral social partnership agreement with the town authorities of Yenakiieve has been signed. The total budget of the agreement amounted to UAH 7,000,000.
For editors:

PJSC "Yenakiieve Steel" consisting of Yenakiieve Iron and Steel Works and Makiivka Branch is one of the world's leading manufacturer of square billet. The enterprise produces cast section, rod products, section bars and shaped sections as well (beams, channel bars, angles etc.). In 2011 performance indicators of Yenakiieve Steel are as follows: sinter – 1.9 Mt, hot metal – 2.3 Mt, steel – 2.7 Mt, commercial rolled products – 2.6 Mt. Yenakiieve Steel is the only manufacturer of guide sections for lifts in Ukraine

There are also the two of the most state-of-the-art blast furnaces in Ukraine on Yenakiieve Steel (BF-3 and BF-5) and the first ever continuous casting machines (CCM), designed and manufactured in Ukraine. In 2012, in the framework of the contest "The best houses and buildings erected and commissioned within the territory of Ukraine" that is conducted annually by Ukrainian Regional Development Ministry, BF-3 of Yenakiieve Steel was acknowledged as the best industrial facility of Ukraine.

Yenakiieve Steel has been implementing the social programme "We improve our town with our own hands" in Yenakiieve and Makiivka, towns of company's presence, for the second year in a row. The total budget of this programme amounted to UAH 150,000 in 2011 and in 2012. In 2012 the management of Yenakiieve Steel and local authorities of Yenakiieve and Makiivka concluded agreements on social and economic partnership "Town – Works", within the framework of which a string of measures aimed at creating comfortable conditions for the citizens has been carried out.

Yenakiieve Steel is a part of Metallurgical Division, Metinvest Group.

Metinvest is a vertically integrated steel and mining group of companies, managing every link of the value chain, from mining and processing iron ore, coke and coal to making and selling semi-finished and finished steel products, pipe rolling, coils and other products with the high added value. The Group comprises steel and mining production facilities located in Ukraine, Europe and the USA and has a sales network covering all key global markets. According to the strategic view of the company its goal is to become the leading European vertical integrated steel producer with the sustainable growth and profit performances, despite of the market cycles, and also to provide the profit investment ratio that is higher than industry standards. In the first half year of 2012 the Group has got the income of US$ 6.74 bln, EBITDA profitability amounted to 16%

The major shareholders of Metinvest B.V. (the holding company of Metinvest Group) are SCM Group (71.25%) and Smart-Holding (23.75%), partnering in the Company's management.

METINVEST HOLDING LLC – is the managing company of Metinvest Group.

Details are available at www.metinvestholding.com