17 May 2013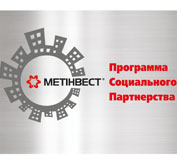 Metinvest has finished the acceptance of applications for the competition on social projects under the program «We Improve Our Town with Our Own Hands." 358 project applications have been sent and that is 20% higher than last year. The winners will get money prize for their projects implementation. The Maximum funding for each project amounts to UAH 50 000.
The contest participants are the representatives of public organizations, local government agencies, self-motivated citizens of Yenakiievo and Makiivka, - they have applied 59 project applications and it is three times higher than in 2012. The record figure was achieved due to the participants from Makiivka; they participate in Metinvest competition for the first time.

All projects are aimed to create comfortable living conditions in the places of residence. Yenakiievo and Makiivka citizens want to landscape parks and garden squares, build children's playgrounds and sport areas, develop children's creative skills, revive the touristic activity. Implementing the projects, citizens are ready to improve the quality of medical services, and make the life of people with reduced capabilities free and more impressive.
The ideas of the applications are various: developing innovative technologies and preserving historic traditions. For instance, using their projects Residential Buildings Owners Association of Makiivka wants to use solar energy for the building surrounding areas lighting. Two public organizations from Yenakiievo are concerned with the issue of saving outgoing music styles. Music lovers dream to organize infant wind-band and create organ hall.
This year innovation of the competition lies in social project planning and project management skills training, provided for the participants. Nearly 500 citizens from the towns of Metinvest Company enterprises presence succeeded to pass this training. The geography of the project has also been broadened. The citizens of Makiivka and Petrovskoye (Kirovograd region) joined to Avdiivka, Yenakiievo, Mariupol, Khartsyzsk, Komsomolskoye, Novgorodskoye, Krasnodon and Krivoy Rog.
All applications will pass technical examination and inspection till the end of May. Projects will be estimated by Expert Committees, created in each town. These Committees will consist of competent representatives of local communities, specialists of the enterprises and organizations, leading Ukrainian experts in continuous improvement. The main task of this Expert Committees is to define the best socially important projects and recommend them to Company for the further funding.
"We convinced again that social projects competition is very important and necessary for citizens. They believed that their dreams could be true. You only need to unite with your neighbors, colleagues, and mates, discuss the idea and apply it. Their extremely important and vital ideas with Metinvest assistance will be realized in real objects and facilities and will serve for good during decades", - mentioned Vera Krokhmalyuk, deputy Mayor of Yenakiievo and member of Expert Committee of this competition.
At the beginning of June there will be winners awarding event and further execution of the best projects.
For editors:

Competition on the best social project among public organizations, local institutions and citizens is rendered under corporate social program «We Improve Our Town with Our Own Hands». The aim of the program is the development of social activities among citizens and the support of important projects execution, resulted in social life quality improving in the regions of Metinvest Company enterprises presence.

In 2011 the pilot towns of program realization were Yenakiievo and Krivoy Rog (Ingulets residential area). Program management is realized by PJSC Inguletskiy GOK, Enrichment Plant and PJSC Yenakiieve Iron and Steel Works authorized persons in cooperation with Municipal Councils. In 2012 this successful experience, achieved by PJSC Inguletskiy GOK, Enrichment Plant and PJSC Yenakiieve Iron and Steel Works, was spread to the other enterprises of Metinvest Company in Donetsk, Dnepropetrovsk and Lugansk regions.

Under the program of 2012 more than 300 applications were passed to this competition, among which 61 social projects have been supported. Metinvest investment for the best initiatives implementation amounted to about UAH 3.5 mln.

PJSC "YENAKIIEVE STEEL" is a world leader in commercial billet production. The company produces cast billet, bar products and various rolled sections and shapes (beams, channels, angles, etc.) as well.

Yenakiieve Steel is part of Metinvest Group's Metallurgical Division.

METINVEST GROUP is an international vertically integrated steel and mining group of companies, managing every link of the value chain, from mining and processing iron ore and coal to making and selling semi-finished and finished steel products. The Group comprises steel and mining production facilities located in Ukraine, Europe and the USA and has a sales network covering all key global markets. The major shareholders of the Company METINVEST B.V. (a holding company of Metinvest Group) are SCM Group (71.25% ownership) and Smart-Holding (23.75% ownership) partnering in Company's management.

METINVEST HOLDING LLC – is the managing company of Metinvest Group.