25 April 2013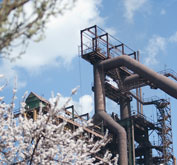 PJSC Yenakiieve Steel, Metinvest Group, environmental actions will be included in the Yenakievo Environmental Situation Improvement Program up to 2020. The concept of this document was unanimously adopted by the deputies at Yenakievo Municipal Council session, held on April 24th 2013.
This Concept specified the main objectives and tasks for Yenakievo environmental situation improvement up to 2020, which includes environmental safety provision, using international experience, stabilization and gradual improvement of natural environmental state, efficient usage and natural resources recovering. This Program, based on the Environmental Concept, will be presented to the local community in May 2013. This long-term environmental protection document will comprise the environmental actions of 26 enterprises of Yenakievo.
PJSC Yenakiieve Steel has already prepared Environmental Actions Plan for Yenakievo Environmental Situation Improvement Program up to 2020. There are 14 actions in the list, focused on air and water resources protection, as well as on efficient usage and utilization of production wastes. The top action of this list is new Sinter Plant construction at Yenakiieve Steel, which will be equipped with up-to-date gas-cleaning systems. In order to reduce the amount of pollutants emissions to the atmosphere the gas-cleaning systems replacements will be performed at BOF Shop and Lime and Refractory Shop.
For water resources improvement and their efficient usage steelworkers are intended to recover Bulavin River bed with the protected riverside creation in the area of Yenakiieve Steel and Yenakiieve Coke Plant slag dumps. Moreover cleaning systems will be installed at Yenakiieve Steel drainage water outlets to Bulavin River with drainage water volume control instruments setting, which eliminate the water source pollution.
Next year "Integrated sludge storage pit reconstruction with recultivation of lands" project will be implemented for iron-containing wastes of Iron and Steel production utilization in Belikov Yar area. This Unit commissioning will enable to double the sludge storage pit volume, to extend its service life and finally to make it environmentally-friendly.
For editors:

PJSC Yenakiieve Iron and Steel Works comprised of Yenakiieve Steel and its Makiivka Branch, is a world leader in commercial billet production. The company produces cast billet, bar products and various section rolled products (beams, channels, angles, etc.) as well. Yenakiieve Steel production performance for 2011are as follows: 1.9 mln. tones of hot sinter, 2.3 mln. tones HM, 2.7 mln. tones of liquid steel, 2.6 mln. tones of rolled product. Yenakiieve Steel is the only producer of shapes for elevator tracks within Ukraine.

Two up-to-date blast furnaces (BF No.3 and BF No.5) and first continuous casting machines (CCM) manufactured in Ukraine are operating at Yenakiieve Steel. In 2012 BF No.3 was acknowledged as the best industrial facility in Ukraine according to the competition by Ministry of Regional Development, Construction and Housing of Ukraine.

For the second time Yenakiieve Steel implements, in Yenakiievo and Makiivka, which are towns of presence, the social programme "We improve our town with our own hands". The allocated funds exceeded UAH 500 th. for 2011-2012. In 2012 Yenakiieve Steel management and local authorities signed "Town-Works" social and economic development agreement, aimed to create comfortable living conditions for citizens.

Yenakiieve Steel is part of Metinvest Group's Metallurgical Division.

METINVEST GROUP is an international vertically integrated steel and mining group of companies, managing every link of the value chain, from mining and processing iron ore and coal to making and selling semi-finished and finished steel products. The Group comprises steel and mining production facilities located in Ukraine, Europe and the USA and has a sales network covering all key global markets. The Group consists of Metallurgical and Mining Divisions. Metinvest's strategic vision is to become the leading vertically integrated steel producer in Europe, delivering sustainable growth and profitability resilient to business cycles and providing investors with returns at above the industry benchmarks

The major shareholders of the Company METINVEST B.V. (a holding company of Metinvest Group) are SCM Group (71.25% ownership) and Smart-Holding (23.75% ownership) partnering in Company's management.

METINVEST HOLDING LLC is the managing company of Metinvest Group.

Get more information at www.metinvestholding.com