19 April 2013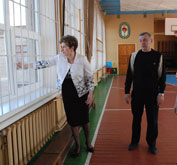 Yenakiieve Steel, Metinvest Group, assigned funds for new window units' installation at Educational Establishment No.15. The activity was carried out within the framework of the Social Partnership Programme between Yenakiieve Steel and town authorities. Project funds amounted to UAH 77 th.
Reinforced plastic glass units are now installed in the gym and the assembly hall of Educational Establishment No.15 which is located at Vatutin residential area. The old windows, which have been used for fifty years long, have almost decayed and hardly held the window glass in its place. It used to be chilly in the gym and the assembly hall all the time, and continuous draughts caused cold-related illnesses among children. Besides, the situation was exacerbated by nonstandard size of windows (220х250 cm), which replacement required significant costs. Teachers, students and their parents were hopeful to replace these windows one day.
"Unfortunately we can't rely on local budget in financing the complete scope of repair works. The only variant possible is sponsorship, - says Svetlana Gulidova, Principal of Educational Establishment No.15. – And we are grateful that Yenakiieve Steel has been so much responsive to our appeal. We managed to install new energy efficient windows only owing to Yenakiieve Steel help. From now on we can air both large premises of our gym and assembly hall, before start of each physical training class or any event. It will help to maintain stable temperature conditions, and students and teachers won't be cold in winter time anymore".
It should be noted that 641 student and 41 teachers are currently studying and working at the Educational Establishment No.15, which is one of the largest schools in Yenakiievo.
For the means allocated by Yenakiieve Steel, Metinvest Group, school administration managed to purchase, dismantle and install 26 new window units with total area of up to 160 m2.
"Each adult person and each parent should provide children with safe and supportive environment for study and development, – highlighted Alexander Podkorytov, General Director of PJSC Yenakiieve Steel.– What really matters for us is that our employees and citizens do not worry for their children going to school every day. This confidence will induce high working efficiency among parents. And it will also motivate both teachers and students to improve their educational efficiency".
For editors:

Educational Establishment No.15 by M.S. Batrakova (former secondary school No.15) was founded in 1960. Education Department of Yenakiieve Town Council comprises 23 educational establishments. Total number of students amounts to 9372.

PJSC Yenakiieve Iron and Steel Works is a world leader in commercial billet production. The company produces cast billet, bar products and various section rolled products (beams, channels, angles, etc.) as well. Yenakiieve Steel is part of Metinvest Group's Metallurgical Division.

METINVEST GROUP is an international vertically integrated steel and mining group of companies, managing every link of the value chain, from mining and processing iron ore and coal to making and selling semi-finished and finished steel products. The Group comprises steel and mining production facilities located in Ukraine, Europe and the USA and has a sales network covering all key global markets. Metinvest's strategic vision is to become the leading vertically integrated steel producer in Europe, delivering sustainable growth and profitability resilient to business cycles and providing investors with returns at above the industry benchmarks.

The major shareholders of the Company METINVEST B.V. (a holding company of Metinvest Group) are SCM Group (71.25% ownership) and Smart-Holding (23.75% ownership) partnering in Company's management.

METINVEST HOLDING LLC is the managing company of Metinvest Group.