1 March 2013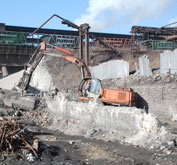 Yenakiieve Steel, Metinvest Group, started old buildings and structural units dismantling at the new Sinter Plant construction site.
New sinter production facility, producing the main Blast Furnace raw material, will cover 22.5 ha. Yenakiieve Steel rents a part of Yenakiieve Coke and Chemicals Plant site, located nearby. New Sinter Plant site preparation commenced on February.
"Our company realizes the urgency of solutions regarding Yenakiievo environmental issues. Currently we are fulfilling the promise given by our main shareholder to the president of the country to build a state-of-the-art environmentally friendly Sinter Plant", - highlighted Alexander Podkorytov, General Director of PJSC Yenakiieve Steel.
During the next few months construction team will have to dismantle a dozen of old industrial buildings and to prepare complete green field site for a new production facility. More than 2500 tones of dismantled structures have already been removed out of site. The highest stack of an old Yenakiieve Coke and Chemicals Plant, which is 110 meters high, is also must be dismantled. Site preparation activities are carried out by "Ukrdomnaremont" Company.
"New Sinter Plant start-up is the high-priority issue for Yenakiievo environmental situation. We are glad that site activities are finally in progress and we will focus our careful attention on the project implementation", - emphasized Valeriy Oleynik, Mayor of Yenakiievo.
The most of Sinter Plants, which are currently functioning within Ukraine, were built thirty or forty years ago. Yenakiieve Steel Sinter Plant was built in 1938, when there were no environmental requirements specified. Yenakiieve Steel, Metinvest Group, will built the first ever Sinter Plant since the Independence of Ukraine. Metinvest funding will amount to more than USD 360 mln.
For editors:

Yenakiieve Steel New Sinter Plant construction project will allow to double the sinter production and at the same time to reduce air pollutant emissions by 10 times. The project is being implemented under the Technical Development Program by Metinvest Group. The new Sinter Plant commissioning is planned for 2016.

«SiemensVAI» (Austria), being one of the best manufacturers of Iron and Steelmaking equipment in the world, was chosen as the basic equipment supplier for the Sinter Plant. Its products comply with the strictest international environmental requirements.

According to the project it is foreseen to construct a brand new Sinter Plant facility complying with both current environmental regulations as well as technical and economic requirements. The key Sinter Plant equipment includes: sinter burden mixing and granulation units; one Sinter machine with sintering area 450 sq.m. (four sinter machines are currently operating at Yenakiieve Steel Sinter Plant, each has sintering area of 62.5 sq.m.; circular cooler; sinter sizing facility and sinter bins storage yard. The stockyard is designed to be closed, as it is the main source of dust pollution. And sinter discharge area will be equipped with MEROS, highly efficient dedusting system, which will allow reduction of air emission by 5 to 7 times.

PJSC Yenakiieve Iron and Steel Works, comprised of Yenakiieve Steel and its Makiivka branch, is a world leader in commercial billet production. The company produces cast billet, bar products and various section rolled products (beams, channels, angles, etc.)

Yenakiieve Steel is part of Metinvest Group's Metallurgical Division.

METINVEST GROUP is an international vertically integrated steel and mining group of companies, managing every link of the value chain, from mining and processing iron ore and coal to making and selling semi-finished and finished steel products. The Group comprises steel and mining production facilities located in Ukraine, Europe and the USA and has a sales network covering all key global markets. The major shareholders of the Company METINVEST B.V. (a holding company of Metinvest Group) are SCM Group (71.25% ownership) and Smart-Holding (23.75% ownership) partnering in Company's management.

METINVEST HOLDING LLC is the managing company of Metinvest Group.