14 February 2013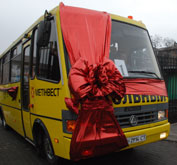 Yenakiieve Steel, Metinvest Group, has provided the IT-Lyceum with two new school buses. These are first-ever specialized school vehicles in Yenakiieve. Now the problem of 60 children picking-up from the remote residential areas is settled. The vehicles were purchased under "Town – Works" Agreement and "School Bus" state-run programme. The funds amounted to UAH 800 th.
Passenger capacity of each school bus, BAZ А079.24SH model, is 30 seats. These are special semi-upholstered seats equipped with seat belts and school bags' boxes under the seat pads. Bus compartments are equipped with a separate seat for attendant and a speaker phone.
There would be three traffic routs for school vehicles developed by Education Department and Transport Department of Yenakiieve Municipal Council in cooperation with School Administration. Strict traffic schedules would also be developed according to the student's residence layout.
"Our educational establishment has a unique peculiarity: we are focused on advanced study of math, physics and IT based on special academic programme. There are only three such lyceums in Ukraine, namely in Kiev, Dnepropetrovsk and currently appeared in Yenakiievo, - says Olga Dehtyareva, Lyceum Principal. – To enroll with "The School of Future" we invited students of 5th to 10th forms who passed set of preliminaries and demonstrated excellent progress at their previous place of education. After the shortlist children from remote residential areas, such as Olkhovatka, Korsun, Yunkom, Krasnyy Gorodok also joined the number of students. Therefore it takes them more time and efforts to get the lyceum and sometimes they are late. We felt extreme necessity for a school bus."
Special vehicles will be signed off to Yenakiieve Municipal Enterprise "Service", which will be providing technical support service and a driver.
"The year 2013 is proclaimed as a Year of Children's Art in Ukraine, and as a Year of the Child in Yenakiievo. That's why we've found it advisable and symbolic to start it with such a vital present for young generation, - highlighted Alexander Podkorytov, PJSC Yenakiieve Steel General Director. – The School of Future is our future as well, since modernization program is being carried out within our Works and new objects to be operated by young, however well-educated specialists."
It should be reminded that in 2012 total social investments of PJSC Yenakiieve Steel amounted to UAH 16.1 mln. Funds were allocated under "Town – Works" Agreement signed between the Works and both towns, Yenakiieve and Makiivka. Metinvest allocated the funds for implementation the projects aimed to develop town infrastructure, to maintain health and environmental activities, to improve quality of education, to develop mass sport and to promote healthy lifestyle. The cooperation was carried out through joint programmes, projects and activities, which also involved the local community.
For editors:

School buses, model BAZ A079.24SH (PJSC Borispil Autoplant), year of manufacture 2012. BAZ A079.24SH buses "Etalon" (Euro 2) extended length modification of А079 model) are manufactured in the framework of the state-run programme "School bus".

School bus is designed to accommodate organized transportation of children to the educational establishments, to the sites where excursions, educational or entertaining event take place.

Educational Establishment 2d level Subject-oriented School – IT Lyceum, Yenakiievo, based on Yenakiieve School No.34 (founded in 1936), where V.F.Yanukovich used to study, was opened in September 1st 2011.

Academic program is focused on advanced IT study. "The School of Future" working language is Ukrainian. Currently 164 students from 5th to 10th forms are studying in lyceum. Maximum size of class includes 20 students. Each student has special plastic e-card which allows entering or leaving the lyceum. This card allows fixing the time when a student comes to school and leaves it. Thus parents receive SMS with the relevant information. This card also enables to pay for lunch at the canteen. The school has got an e-record which facilitates parent control for student's progress.

PJSC Yenakiieve Iron and Steel Works, comprised of Yenakiieve Steel and its Makiivka branch, is a world leader in commercial billet production. The company produces cast billet, bar products and various section rolled products (beams, channels, angles, etc.) as well. Yenakiieve Steel is the only producer of shapes for elevator tracks within Ukraine. Yenakiieve Steel production performance for 2012 is as follows: 2.2 mln. tones of hot sinter, 2.5 mln. tones HM, 2.7 mln. tones of liquid steel, 2.7 mln. tones of rolled product.

Two up-to-date blast furnaces (BF No.3 and BF No.5) and first continuous casting machines (CCM) manufactured in Ukraine are operating at Yenakiieve Steel. In 2012 BF No.3 was acknowledged as the best industrial facility in Ukraine according to the competition by Ministry of Regional Development, Construction and Housing of Ukraine.

For the second time Yenakiieve Steel implements, in Yenakiievo and Makiivka, which are towns of presence, social programme "We improve our town with our own hands". For 2011-2012 the allocated funds amounted to USD 500 th. In 2012 Yenakiieve Steel management and local authorities signed "Town-Works" social and economic development agreement, aimed to create comfortable living conditions for citizens.

Yenakiieve Steel is part of Metinvest Group's Metallurgical Division.

METINVEST GROUP is an international vertically integrated steel and mining group of companies, managing every link of the value chain, from mining and processing iron ore and coal to making and selling semi-finished and finished steel products. The Group comprises steel and mining production facilities located in Ukraine, Europe and the USA and has a sales network covering all key global markets. Metinvest's strategic vision is to become the leading vertically integrated steel producer in Europe, delivering sustainable growth and profitability resilient to business cycles and providing investors with returns at above the industry benchmarks.

The major shareholders of the Company METINVEST B.V. (a holding company of Metinvest Group) are SCM Group (71.25% ownership) and Smart-Holding (23.75% ownership) partnering in Company's management.

METINVEST HOLDING LLC is the managing company of Metinvest Group.

Get more information at www.metinvestholding.com