31 January 2013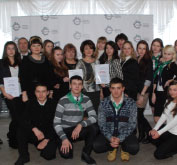 Yenakiieve Steel, Metinvest Group, has summarized the Competition of Environmental Projects held among schoolchildren in Makiivka within the framework of the Programme Healthy Environment is Everybody's Business. Funds allocated to implement Environmental Projects amounted to UAH 60 th.
About 50 students from eight schools participated in the competition. Coordination Council, composed of Yenakiieve Steel and Makiivka Educational Administration representatives as well as environmental specialists from Yenakiieve and Makiivka, considered all competing projects.
The competition was held since October till December 2012. During this period the teams guided by their teachers managed to perform huge amount of work and to present challenging and relevant environmental initiatives. Each of three winning projects was granted with UAH 20 th.
The project «Green Theatre — Let's be Environmentally Friendly» developed by students of school No.50 was considered the best within «Green Building» category. Project implementation will be based on the existing Green Theatre in Zelenyi residential area.
The project «My Schoolyard is a Mirror of my Town» devised by students of the 10th form, school No.103, won in the category «Green Town». It will help the children to retrofit completely their schoolyard. Brand new visual environment of the schoolyard will please the eyes of any people in Gornyatskiy and Holodnaya Balka settlements by the beginning of a new school year.
The project «Environmental Education in a Green Class» by students of 10th form, school No.12, has won in the category «Environmental Lesson». For the means granted they will buy multimedia devices and visual materials to propagate environmental awareness. The seniors will also compile videos on subject and short movies about activity of their team which will give their performances in school as well as visit other places to show it. Therefore students want to involve as many people as possible to participate in Environmental Protection Activities in Proletarskiy, Ugolshchik, Guselskoye, Molocharka and Shevchenko settlements.
Young citizens of Makiivka will start implementing their environmental initiatives in February, 2013.
«Health Environment is Everybody's Business Programme aims to change the level of environmental awareness of the people, — highlighted Alexander Podkorytov, General Director of PJSC Yenakiieve Steel. — The new generation acted vigorous and open-minded, when plunging into the event, they investigated the problems and proposed the solution. All we need is to help them start slowly changing awareness of our people».
For editors:

Environmental Projects Competition is implemented within corporate social programme «Healthy Environment is Everybody's Business». It is aimed to create environmental consciousness and design education as a part of sustainable development in the towns where Metinvest is present. The main objectives are to promote environmental awareness, to organize friendly and sustainable attitude to the natural resources.

To carry out the initiatives there were 139 applications submitted for the school year 2012/2012. The Expert Council has approved 37 best environmental initiatives. To implement them Metinvest has allocated funds amounted to UAH 740 th.

PJSC Yenakiieve Iron and Steel Works, comprised of Yenakiieve Steel and its Makiivka Branch, is a world leader in commercial billet production. The company produces cast billet, bar products and various section rolled products (beams, channels, angles, etc.) as well. Yenakiieve Steel is the only producer of shapes for elevator tracks within Ukraine. Yenakiieve Steel production performance for 2011 is as follows: 1.9 mln. tones of hot sinter, 2.3 mln. tones HM, 2.7 mln. tones of liquid steel, 2.6 mln. tones of rolled product.

Two up-to-date blast furnaces (BF No.3 and BF No.5) and first continuous casting machines (CCM) manufactured in Ukraine are operating at Yenakiieve Steel. In 2012 BF No.3 was acknowledged as the best industrial facility in Ukraine according to the competition by Ministry of Regional Development, Construction and Housing of Ukraine.

For the second time Yenakiieve Steel implements, in Yenakiievo and Makiivka, which are towns of presence, social programme «We improve our town with our own hands». The allocated funds amounted to USD 500 th. for 2011-2012.

In 2012 Yenakiieve Steel management and local authorities signed «Town-Works» social and economic development agreements, aimed to create comfortable living conditions for citizens.

Yenakiieve Steel is part of Metinvest Group's Metallurgical Division.

METINVEST GROUP is an international vertically integrated steel and mining group of companies, managing every link of the value chain, from mining and processing iron ore and coal to making and selling semi-finished and finished steel products. The Group comprises steel and mining production facilities located in Ukraine, Europe and the USA and has a sales network covering all key global markets. Metinvest's strategic vision is to become the leading vertically integrated steel producer in Europe, delivering sustainable growth and profitability resilient to business cycles and providing investors with returns at above the industry benchmarks.

The major shareholders of the Company METINVEST B. V. (a holding company of Metinvest Group) are SCM Group (71.25% ownership) and Smart-Holding (23.75% ownership) partnering in Company's management.

METINVEST HOLDING LLC is the managing company of Metinvest Group.

Get more information at www.metinvestholding.com