21 January 2013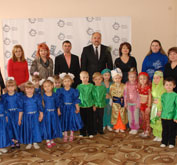 PJSC Yenakiieve Steel, Metinvest Group, and local social organisation "Chistyi Mir" ("Clean World") finished energy-saving project, focused on the creation of favourable conditions for young children. This project was implemented under social programme "We improve our town with our own hands". The means, allocated by Metinvest, for windows replacement in Yenakiievo kindergarten amounted to UAH 106 th.
All old windows units (57) have been replaced with modern multiple glass ones in «Topolyok» (small poplar) nursery and pre-school establishment. New four doors, including the entrance, were also installed. Currently visiting of pre-school complex will become more comfortable for 118 children, as the temperature in the rooms came to +220С.
«We never complained about the quality of heating, however due to the wooden windows disrepair, which haven't been replaced for 40 years, the indoor temperature never rose over +170С, let alone the impossibility of air charge of the rooms according to sanitary standards. So it was necessary to replace the windows, but the costs for municipal budget and for parents was nearly impracticable, — mentioned Nataliya Terentyeva, deputy director of pre-school subsidiary No.1 of educational complex No. 15. — But the escaping from this seeming deadlock became Metinvest programme, which social activists from «Chistyi Mir» organisation decided to participate in. Young people deeply felt our problems, so together we made the request and won the competition».
There were five winning projects of the competition «We improve our town with our own hands"-2012, which was held in Yenakiievo: Park of Arts arrangement at the surrounding area of Tchaikovsky School of Arts in Yenakiievo, small mobile playground with water playsets for children in Yelenovka residential area, brand new playground at Vatutino residential area, replacement of windows in nursery and pre-school establishment «Topolyok» and Child Development Centre based on unique practice by Maria Montessori. The overall budget of the competition in 2012 amounted to UAH 350 th.
«All projects of this infrastructure competition — 2012 are focused on children. So this fact gives us the evidence that we invest in our future, — highlighted Alexander Podkorytov, General Director of PJSC Yenakiieve Steel. — I strongly believe, that this year will bring us more projects in the competition, which gains such popularity».
For editors:

The competition for the best social project among the public organisations, municipal institutions and citizens is held under corporate social programme «We improve our town with our own hands». Programme objective lies in developing of the social activity among the citizens and supporting the actual projects realisation, focused on social environment improvement within the areas of Metinvest presence.

PJSC «YENAKIIEVE STEEL», comprised of Yenakiieve Steel and its Makiivka Branch, is a world leader in commercial billet production. The company produces cast billet, bar products and various rolled sections and shapes (beams, channels, angles, etc.) as well. Yenakiieve Steel production indices for 2011 are the following: sinter — 1.9 Mt; hot metal — 2.3 Mt; steel — 2.7 Mt, commercial rolled products — 2.6 Mt. Yenakiieve Steel is the only producer of the guiding lines for elevator tracks within Ukraine.

Two up-to-date blast furnaces (BF No.3 and BF No.5) and first continuous casting machines (CCM) manufactured in Ukraine are operating at Yenakiieve Steel. In 2012 BF No.3 was acknowledged as the best industrial facility in Ukraine following the results of the annual contest of Ministry for regional development, construction and housing and utilities sector of Ukraine.

For two years in a row Yenakiieve Steel implements in Yenakiievo and Makiivka, company's presence towns, social programme «We improve our town with our own hands», the investments in a programme during 2011-2012 exceeded UAH 500 th.

In 2012 Yenakiieve Steel Management and Yenakiievo and Makiivka Municipal Authorities signed up «Town-Works» agreement about social and economic partnership in order to develop the welfare and comfort living conditions for the citizens.

Yenakiieve Steel is part of Metinvest Group's Metallurgical Division.

METINVEST GROUP is an international vertically integrated steel and mining group of companies, managing every link of the value chain, from mining and processing iron ore and coal to making and selling semi-finished and finished steel products. The Group comprises steel and mining production facilities located in Ukraine, Europe and the USA and has a sales network covering all key global markets. Metinvest Group consists of Mining and Metallurgical Divisions. According to the Strategic vision of the Group the main objective is to become a leading vertically integrated steel maker with stable growth and revenue indices despite the market cycles and to provide the investment yield, which will be higher than branch standards.

The major shareholders of the Company METINVEST B. V. (a holding company of Metinvest Group) are SCM Group (71.25% ownership) and Smart-Holding (23.75% ownership) partnering in Company's management.

METINVEST HOLDING LLC — is the managing company of Metinvest Group.

Details are available at www.metinvestholding.com