17 January 2013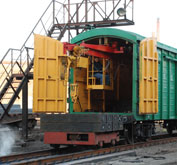 The "Replacement of car scales in the CCM No.1 area" project has been implemented in the BOF Shop of Yenakiieve Steel, Metinvest Group. The new unit will help the enterprise to increase the production efficiency by means of more accurate registering of finished product during shipment. Project funding amounted to USD 160 th.
New tensometric scales «ВВЭТ-150-ТД2-ЭП0-ДП-С» (Ukraine) are installed in the area of Continuous Casting Machine No. 1 (CCM No.1) of BOF Shop. The main intended use of the new unit is to weight concast billets before being shipped to customer. The scales are equipped with 8 electronic sensors, which send a converted signal to the Works' centralised system for goods weighting data collection. The received information serves as basis for transportation documentation issued for the shipped products. The new scales are designed for 15 years of operation; their weighting capacity range is 150 tones.
The project on installing the up-to-date wage scales was being implemented within 2012. Implementation embraced elaboration of design documentation, obtaining necessary agreements, dismantle of outdated scales, arrangement of foundation for the new unit, mounting scales equipment, as well as capital repair of railroad sidetrack areas to and from the scales.
«Weighting accuracy and speed, reliability and functionality of the scales — these are the characteristics that have a significant effect on the whole Works efficiency», — stated Alexander Podkorytov, General Director of PJSC «Yenakiieve Steel». — «We started modernising our weighting facilities 5 years ago. Within this period we renewed several weighting units at different process stages of the Works, which enabled reducing wagons loading time and trucks stand-by time at a Security Control Post, as well as eliminating wagons overloading and whereby lowering the reject rates while loading».
For editors:

Car scales (wage scales) are meant for static weighting of railway cars and tank wagons in the course of registration and process operations at manufacturing and transporting enterprises, including weighting results presentation on a weight measuring device. Operation principle of electronic tensometric scales is based upon goods weight conversion into analogue signal at the output of measuring sensors installed under the carrier and further digital processing by controller (measuring tensometric device), presenting the results on a display and output terminal for connection to external devices or PCs.

Weighting facilities of PJSC Yenakiieve Steel comprises 126 main units. The scales of different types are used at the Works, namely car, truck, hopper, conveyor, crane, dosing scales etc.

PJSC «YENAKIIEVE STEEL», comprised of Yenakiieve Steel and its Makiivka Branch, is a world leader in commercial billet production. The company produces cast billet, bar products and various rolled sections and shapes (beams, channels, angles, etc.) as well. Yenakiieve Steel production indices for 2011 are the following: sinter — 1.9 Mt; hot metal — 2.3 Mt; steel — 2.7 Mt; commercial rolled products — 2.6 Mt. Yenakiieve Steel is the only producer of the guiding lines for elevator tracks within Ukraine.

Two up-to-date blast furnaces (BF No.3 and BF No.5) and first continuous casting machines (CCM) manufactured in Ukraine are in operation at Yenakiieve Steel. In 2012 BF No.3 was acknowledged as the best industrial facility in Ukraine following the results of the annual contest of Ministry for regional development, construction and housing and utilities sector of Ukraine.

For two years in a row Yenakiieve Steel implements in Yenakiievo and Makiivka, company's presence towns, social programme «We improve our town with our own hands», the investments in a programme during 2011-2012 exceeded UAH 500 th.

In 2012 Yenakiieve Steel top management and Yenakiievo and Makiivka municipal authorities signed up «Town-Works» agreement on social and economic partnership in order to develop the welfare and comfort living conditions for the citizens.

Yenakiieve Steel is part of Metinvest Group's Metallurgical Division.

METINVEST GROUP is an international vertically integrated steel and mining group of companies, managing every link of the value chain, from mining and processing iron ore and coal to making and selling semi-finished and finished steel products. The Group comprises steel and mining production facilities located in Ukraine, Europe and the USA and has a sales network covering all key global markets. Metinvest Group consists of Mining and Metallurgical Divisions. According to the Strategic vision of the Group the main objective is to become a leading vertically integrated steel maker with stable growth and revenue indices despite the market cycles and to provide the investment yield, which will be higher than branch standards.

The major shareholders of the Company METINVEST B. V. (a holding company of Metinvest Group) are SCM Group (71.25% ownership) and Smart-Holding (23.75% ownership) partnering in Company's management.

METINVEST HOLDING LLC — is the managing company of Metinvest Group.

Details are available at www.metinvestholding.com