15 January 2013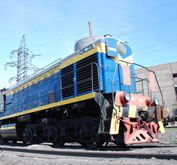 Video monitoring and GPS-navigation systems have been installed at 29 locomotives of YENAKIIEVE STEEL, METINVEST GROUP, and it's MAKIIVKA BRANCH for higher safety of railway transport operation. Project funding amounted to about UAH 420 th.
Video monitoring system supports the optimization of rolling stock motion, prevent potential accidents. Operating monitors reflect online comprehensive information about locomotives motion and locos' engineers work. GPS-receivers, installed at locos, enable us to know exactly the area, where locos appear to be, as well as technical facilities utilization efficiency.
Video monitoring system helps the personnel of Works Railway Transport Administration (RTA) to control the actions of the crews for locomotives formation in terms of compliance with HSEA requirements. Every week the most revealing videos will be demonstrated at shift meetings. The role of video monitoring should be noted in engineer's assistants training. Road foremen of engines have an opportunity to trace the accuracy and completeness of the performed activities, using video examples.
«YENAKIIEVE STEEL became the first Iron and Steel Works of Ukraine, which introduced such large-scale and ambitious innovative system of video monitoring for departmental railway transport, — pointed Alexander Zabrodin, PJSC YENAKIIEVE STEEL Transport Director. — Currently 60% of Works' fleet of locomotives is linked to this system. We are planning to install GPS-receivers at all locos before the year is out. Eventually video monitoring system will be updated by the diesel oil consumption control units».
For editors:

The fleet of locomotives of YENAKIIEVE STEEL Railway Transport Administration and Transport Shop of Makiivka Branch consists of 50 units of technical facilities (YENAKIIEVE STEEL - 41 and MAKIIVKA BRANCH - 9). YENAKIIEVE STEEL cars fleet comprises of over 700 units, including 10 railway cranes. The general duties of transport specialists lie in rendering transport and technological services for Works Shops (handling operations and cooperation with State Railway Company "Ukrzaliznytsya"). In the subdivision more than 1 thousand persons are working. The infrastructure of the PJSC Transport Shops comprises 12 railway stations, 780 points and two locomotive and car depots in each. The total length of operating railway tracks is 122 km (YS) and 90 km (MB).

PJSC "YENAKIIEVE STEEL", comprised of Yenakiieve Steel and its Makiivka Branch, is a world leader in commercial billet production. The company produces cast billet, bar products and various rolled sections and shapes (beams, channels, angles, etc.) as well. Yenakiieve Steel production indices for 2011 are the following: sinter – 1.9 mln.t. hot metal – 2,3 mln.t., steel – 2,7 mln.t, commercial rolled products – 2,6 mln.t. Yenakiieve Steel is the only producer of the guiding lines for elevator tracks within Ukraine.

Two up-to-date blast furnaces (BF No.3 and BF No.5) and first continuous casting machines (CCM) manufactured in Ukraine are operating at Yenakiieve Steel. In 2012 BF No.3 was acknowledged as the best industrial facility in Ukraine following the results of the annual contest of Ministry for regional development, construction and housing and utilities sector of Ukraine.

For two years in a row Yenakiieve Steel implements in Yenakiievo and Makiivka, company's presence towns, social programme "We improve our town with our own hands", the investments in a programme during 2011-2012 exceeded UAH 500 th.

In 2012 Yenakiieve Steel Management and Yenakiievo and Makiivka Municipal Authorities signed up "Town-Works" agreement about social and economic partnership in order to develop the welfare and comfort living conditions for the citizens.

Yenakiieve Steel is part of Metinvest Group's Metallurgical Division.

METINVEST GROUP is an international vertically integrated steel and mining group of companies, managing every link of the value chain, from mining and processing iron ore and coal to making and selling semi-finished and finished steel products. The Group comprises steel and mining production facilities located in Ukraine, Europe and the USA and has a sales network covering all key global markets. Metinvest Group consists of Mining and Metallurgical Divisions. According to the Strategic vision of the Group the main objective is to become a leading vertically integrated steel maker with stable growth and revenue indices despite the market cycles and to provide the investment yield, which will be higher than branch standards. The major shareholders of the Company METINVEST B.V. (a holding company of Metinvest Group) are SCM Group (71.25% ownership) and Smart-Holding (23.75% ownership) partnering in Company's management.

METINVEST HOLDING LLC – is the managing company of Metinvest Group.

Details are available at www.metinvestholding.com