21 December 2012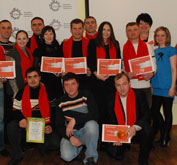 Yenakiieve Steel, Metinvest Group, finalized the results of "Troops of well-doing" voluntary campaign, focused on the support of socially vulnerable citizens of Yenakiievo, Uglegorsk and Makiivka. During this campaign about 350 volunteers by their own steam made renovations in social organisations, cleaned public gardens and municipal parks, rendered assistance to veterans and disabled persons, arranged master classes, hiking, football matches and excursions. The campaign budget amounted to UAH 100 th., one half of which was earmarked for the teams' prize fund.
There were eight teams, consisting of the employees from Yenakiieve Steel and Makiivka Branch structural units, which participated in "Troops of well-doing" Metinvest campaign. During three weeks "troops" passed through three stages and performed "kind missions" at sites, defined by the Command staff. The major part of the works was focused on the renovations and landscaping in boarding schools in Yenakiievo and Uglegorsk, Yenakiievo orphan home and social rehabilitation school in Verovka village, as well as in Makiivka kindergarten. Veterans and disabled children were embraced with tender care and attention.
Once campaign was over, the Command staff finalized the results of the tasks executions, considering the efficiency, liability, creativity and enthusiasm of the "troops". Two teams from Yenakiievo – "Generals of well-doing" (Youth Council) and "Saviors of small hearts" (Development Directory) got all good out of these merits. The volunteers performed maximum number of kind missions, engaging other citizens in their activities. The winners received the certificates with a value of UAH 10 th. Other teams also got the certificates with different sums of money. Teams will donated all the received funds. For instance, one of the winners intends to pass all funds to the citizen of Yenakiievo, who recently suffered for squib detonation and required a long-term treatment. Personnel Directory will donate their prize to a former Yenakiieve Steel employee, who is a Cancer Center registrant. Other "troops" will earmark the funds received to their friends under care for improving social organisations' material resources.
"Troops" launched their campaign, consisting of 76 persons, but further on the number of volunteers increased three times due to the participation of their relatives, friends, fellows and neighbors. This is the best evidence, that in Yenakiievo and Makiivka there is a sheer number of kind-hearted and liable persons, which are forward to help to some orphans, the old, the sick and just lonely persons, - summerised the results of the voluntary activity Alexander Podkorytov, General Director of PJSC Yenakiieve Steel, who was also an active participant of one of the teams".