14 December 2012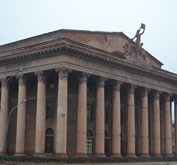 Yenakiieve Steel, Metinvest Group, has completed the first stage of reconstruction works at the Makiivka Metallurgists' Cultural Centre. The roof of the building was overhauled within the framework of the Town-Works-2012 Agreement. The total Metinvest funding for renovation of this Centre amounts to more than UAH 160 000.
The roof overhaul was fulfilled in the right wing of Cultural Centre building. In the course of the works the roof slating of total area 1130 m2 was completely replaced using modern waterproofing materials; also new roof barriers and outflows were mounted. The lighting tower and dormer windows were completely recovered: the walls of the building were plastered and painted, 22 window blocks were replaced, and the covers were renewed.
"Our Culture Centre was built in 1959, and for the whole period of existence this monumental building was only partially repaired, – said Tatyana Chumak, director of Metallurgusts' Cultural Centre. – The right wing of the building is in extremely unsafe condition, since its roof was renewed by "patching" only 20 years ago. This building is registered in the List of Donbass Landmarks, that's why many architectural elements required detailed renovation according to the archived drawings and using the materials specified in the documents. Certainly, all these requirements considerably raised the works price, but Metinvest carried out a high-level overhaul".
"We gave our promise to all Makiivka citizens to help with the reconstruction of this landmark, and we keep it, - said Alexander Podkorytov, General Director of PJSC "Yenakiieve Steel". – The roof overhaul is only the first stage of a long-term project. Together with the town administration we have already outlined the prior directions for the year 2013, within the framework of the Town-Works Agreement. The Makiivka Metallurgists' Cultural Centre is also in the list".