23 November 2012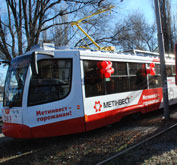 METINVEST renewed the tram depot of Yenakiievo Tram and Trolleybus Administration with two modern trams. The new tram cars, tailor-made for METINVEST, have been transferred to the town community's ownership under agreement on "Town-Works" social and economic partnership, signed between YENAKIIEVE STEEL and local authorities this year. The overall cost of these two trams amounted to nearly UAH 9 mln.
Two new trams with METINVEST emblems, manufactured at Ust'- Katavskiy Tram Car Plant (Russia), hold up to 160 passengers. Comfy cars are fitted with convenient semi-soft seats and ramps for wheel-chaired persons. Service-friendly tram operator place is equipped with board computer, displaying all working characteristics. Robust disc brake will enable to ensure reliable running on roads with slopes, whereas thyristor-impulse control will provide smooth running and safety. Temperature mode in the tram car is adjusted by climate-control system. The new trams are equipped with external and internal light panels, which display the names of the stops. Moreover, new cars reduce energy consumption by 40% comparing to the current trams, which are under Yenakiievo Tram and Trolleybus Administration service.
«Now I feel confident about Yenakiievo tram's future, which was being dismissed just a while ago, - mentioned Alexander Vaynshteyn, Director of Yenakiievo Tram and Trolleybus Administration. – This year our Administration celebrated the 80th-anniversary, but upon this date we haven't got very optimistic results: we possess 35 units of railway vehicles, but now only 7 trams are running on three routes. There are several reasons for this: first and foremost, the last depot modernization was carried out 20 years ago, and the "oldest" tram arrived in 1975, although tram lifetime is only 15 years. Then, the lack of tram operators is due to the low wages, which are also payable in arrears. Owing to METINVEST support we renewed out tram depot by 30%".
New trams will run on the longest (13 km) and mass route No.1, that link two Works settlements: Vatutin residential area and Krasniy Gorodok.
"It is important for us to create comfortable conditions not only for the Works employees, but also for all citizens of Yenakiievo, because we don't separate Works from Town, - pointed out Alexander Podkorytov, General Director of PJSC YENAKIIEVE STEEL. – Trams purchasing for the citizens is only one of the steps in "Town-Works" social agreement implementation. Even now, according to the agreement wording, we have reached significant results and in future we will have several important projects to be implemented".
It should be noted, that "Town-Works" social and economic cooperation agreement, between Works management and Yenakiievo local council, was signed on March 2012. According to this agreement the cooperation of local authorities and business in Yenakiievo will be focused on the following priority areas: town infrastructure development, health safety and environmental protection, educational level improvement, as well as mass sport development and healthy lifestyle promotion. This cooperation will be implemented through the joint programmes, projects and events, which will also engage local community.