3 November 2011 // Press service PJSC «Yenakiieve Steel»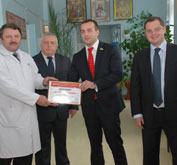 The international vertically integrated mine and smelting group of companies Metinvest, allocated UAH 600 th. for the modern equipment purchasing for Cancer Detection Center in Yenakiievo. The assistance has been rendered in the framework of the cooperation between PJSC «Yenakiieve Steel» and this medical facility.
Health Care Public Utility Company (HCPUC) «Municipal Cancer Detection Center of Yenakiievo» is the unique medical establishment in the region, which renders its services for more than 4 th. patients from Yenakiievo, Debaltsevo, Zhdanovka, Kirovskoye. The following treatment and medical services of the oncologic patients have been provided by 72 health care specialists, among which 9 doctors of different qualification ranks.
The major part of the allocated funds (70%) will be committed for the surgery equipment and instrumentation purchasing. Moreover, it is planned to replace the medical instrumentation sterilizing units, and to fit medical treatment cabinets and bandaging rooms.
«Our medical facility is in sore need for the new equipment purchasing due to the insufficient state funding for the current hospital support, - stated Valeriy Solop, chief medical officer of Cancer Detection Center in Yenakiievo. – But now I am excited to admit – the dreams come true, during 10 years we have been receiving the appreciable support from the Group. New medical equipment will give us the opportunity for the significant improvement of the patients' support in the region. For instance, we will get the tissues soldering unit, which is not available for the majority of the hospitals in the region».
It should be noted, that Metinvest Company always provides continuous funding in Health Care of the region, where the Group's enterprises are located. In 2011 the Group funded over UAH 2 mln. in the regions, where the Group's enterprises are located. During 2007-2010 PJSC «Yenakiieve Steel» supported the following activities, rendered at the Municipal hospital No.2: overhaul maintenance of the unique medical equipment, autoclaves purchasing and office equipment delivery. The total sum of the targeted assistance was amounted to UAH 1 mln.
«Rendering the continuous support for the Health Care facilities is aimed not only for the strengthening of its material and technical base, - noted Alexandr Podkorytov, PJSC «Yenakiieve Steel» General Director. – It is very important, that maximum possible amount of citizens could get the appropriate treatment. The life of a person must depend on the possibilities of the modern medicine, but not on the material wealth».