1 September 2011 // Press service PJSC «Yenakiieve Steel»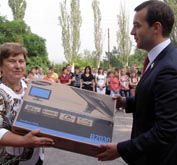 Within the framework of educational project "School - Higher Educational Establishment - Enterprise" Yenakiieve Iron and Steel Works of Metinvest Group has presented the Yenakiievo Technical Vocational Metallurgic School (YTVMS) with 20 computers for special disciplines classrooms equipment at the Knowledge Day. Other educational institutions of the town will also be equally involved into the project field, started this year at the Yenakiieve Steel.
The main objective of the "School - Higher Educational Establishment - Enterprise" project is training of the qualified specialists, who will be adapted to work at the up-to-date production facilities, and formation of future personnel of the Works.
The presented equipment will allow the YTVMS to expand the possibilities of the educational process by means of computer technologies. Now teachers can not only teach the necessary training programmes for mechanisms and their operational processes, but also use the modern educational technologies.
«Development of industrial technologies foresees the up-to-date personnel training and reformatting of the educational process, - says Tatyana Grudyeva, the Acting Director of YTVMS. - Today nothing can be done without modern office equipment in any field. Our education classrooms were equipped with computers insufficiently, as a result 2-3 students had to huddle together near one monitor at the special subjects lectures. Now, thanks to the Yenakiieve Steel help, we can equip the classrooms of special disciplines and fully complete the multimedia room. And the students will have an opportunity to obtain a personal studying place, which will allow mastering the teaching material more profoundly, testing their knowledge by means of special programmes, and studying the projects technology in more details».
It is worth noted that at YTVMS crane operators, shunting masters, lathe operators, repairmen and other blue-collar specialists being always highly-demanded at Yenakiieve Steel are trained. For example 80% of Railway Transport Administration personnel of Yenakiieve Steel was graduated from this metallurgical school.
«Well thought-out and social responsible HR policy is the basis for development and flourishing of any enterprise, - noted Alexandr Podkorytov, Director General of PJSC Yenakiieve Steel. – Start of working life is not of less importance than long working experience. That's why we are keeping close eye on the students of the field universities. We give an opportunity to improve the quality of education to receive specialists who will further work successfully at our enterprise».
Editorial notice

Yenakiievo technical vocational metallurgical school (YTVMS, former PTU No.50) on the 5th of December 2011 will celebrate its 40th anniversary. Primary this school was established on the basis of Yenakiieve Steel to train locomotive operator assistants, crane operators, shunting masters, lathe operators, milling machine operators, repairmen, car repairmen, Instrumentation fitters and electricians for equipment repair. Every year 270 people study at YYVMS.

Yenakiieve Steel is one of the world leaders in square billets production. The company produces cast billet, rebar and various rolled sections (beams, channels, angles, etc.) as well. "Yenakiieve Steel" is a part of Steel and Rolled Products Division of "Metinvest Group".

Metinvest is a vertically integrated mining group of companies owning assets in each link of the production chain from iron ore and coal min-ing and coke production through to manufacture of semi-finished and finished steel products, pipe rolling and coils as well as other value-added products. Group consists of mining, iron and steel companies, located in Ukraine, Europe and USA and has a sale network covering all key world markets. The major shareholders of Metinvest are SCM Group (71,25 % ownership) and Smart-Holding (23,75 % ownership) partnering in Company's management.

METINVEST HOLDING, LLC is the managing company of Metinvest Group.